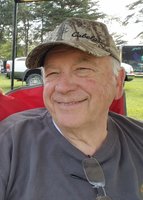 Donald John Friga
Donald John Friga, 73 years, of Asbury, New Jersey, passed away on Tuesday June 1, 2021 at the Hunterdon Medical Center. Born on June 22, 1947, in Rahway, New Jersey. Donald was the son of the late John and Ann (née Wargo) Friga.

Donald grew up in Rahway and attended from Rahway High School. After high school Donald joined the United States Navy, he served for four years aboard the aircraft carrier, USS Franklin D. Roosevelt . After leaving the Navy Donald meet the love of his life, his wife Helen, whom he married May 10, 1975. Together Donald and Helen raised two amazing daughters, Jessie and Elizabeth. During his working life Donald began working as a janitor and worked his way up the ranks to become a computer programmer/analyst at Merck & Co.
Donald loved spending time on the lanes bowling, but also loved casting some lines in the water and going fishing. Donald was also quite the car aficionado and was a member of the Allentown Area Corvette Club. He also had a thrill seeking side and enjoyed going to amusement parks, especially Disney. Donald liked to do his part and volunteer in the community and was an active volunteer as a Hunterdon County Poll Worker and for the VNA Rummage Sale.
He is survived by his beloved wife of 46 years, Helen; two daughters Elizabeth Friga, and Jessie Friga-Follin and her husband Kevin Follin.
All services will be held privately at this time.
In lieu of flowers donations in Don's name maybe made through IN MEMORY OF for the Pattenburg Fire Department at www.inmemof.org



.