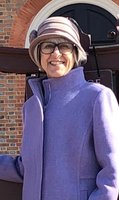 Janet D. Milita
Janet Constance DeGuglielmo Milita, 66, left us on June 2, 2021, after a long and brave journey with cancer.

Janet made every room brighter just by her presence. From her soul, she exuded joy, laughter and love. She cherished celebrating with her family and friends, caring for all animals, and exploring connections to others through her drawing, painting and poetry. Janet had a dramatic flair for dressing. People always commented on her clothing, especially the way she used purple and yellow. She loved all things purple!

Janet graduated from King's College, Wilkes-Barre, PA, in 1973, with a double major in Business and Communications. She earned a master's degree from Seton Hall University in 1987. Her professional years began in the banking industry. She had successful careers with First National Bank of Central Jersey, Bank of America and Merrill Lynch Trust Company. She worked in advertising and banking and served as a trust officer. She attended specialty banking schools at the University of Colorado and the University of Virginia.
After many years in the banking industry, Janet transitioned to a career in education. She earned a Master of Education from Rider University in 2000, then filled many roles as an educator. She taught 6th grade language arts and social studies and served as Director of Curriculum in Tewksbury Township School District. She moved on to serve as an administrator with multiple responsibilities at Hope School in Warren County. From 2005 to 2015, Janet was a much-admired member of the Warren Township, Somerset County School Community, where she served as Central School K-5 principal. She loved working with students and staff alike. She dedicated countless hours to serving her school community and was named teacher of the year in 2001.
Always a community volunteer, Janet served various animal shelters, shelters for battered women and the Hunterdon County Public Library.

Janet is survived by her devoted husband of nearly 40 years, Martin J. Milita, Jr., Esq., also a King's College graduate, and daughter Samantha Pitcher, son-in-law William Pitcher and their precious daughter Sage Rose Pitcher. She is also survived by her brother Anthony DeGuglielmo and his wife Nancy DeGuglielmo, as well as sisters-in-law Maribeth Reigner and Trish Foster along with their spouses Peter Reigner and Gary Foster. Janet was the beloved daughter of the late Anthony F. DeGuglielmo and Rose M. DeGuglielmo. She was the "Purple Lady" to her many surviving nieces and nephews!
Janet's numerous friends and family members are devastated by her loss but find comfort in many beautiful memories of her. You could not know her without recognizing the light and love that she projected. Janet loved and cherished others and was loved and cherished in return.

A Mass of Christian Burial will be offered on Friday, June 11, 2021 at 10:00 am at Immaculate Conception Church, 316 Old Allerton Road, Annandale NJ 08801. Inurnment will follow mass in the church mausoleum. Arrangements are under the care of Martin Funeral Home, Clinton NJ. There will be no services held at the funeral home.
Those who wish may view the Funeral Mass via livestream. Please Click Here for Livestreaming. The live stream will start at 9:55 am on Friday June 11th.
In keeping with Janet's love for the color purple, the family asks that all those attending the service, please wear something with purple in her honor.
In lieu of flowers and in keeping with Janet's affection for animals, her family encourages donations to Animal Alliance in Lambertville, NJ, Click Here to Donate or any animal rescue organization you support. At a later date, a scholarship will be set up at King's College in her name.
Janet was an abundance of joy! All who knew and loved her count themselves lucky to have experienced her magic.