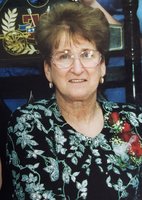 Carmela Ross
On June 7, 2021, Carmela Ross 83 of Clinton Township passed peacefully with family continually by her side.
Born in Passaic NJ on August 1, 1937, Carmela lived over 65 years in Hunterdon County. Prior to moving to Clinton Township in 1981, Carmela and her husband Rich lived in Union Township where they raised five children.
Carmela lived her life always thinking of others and was an avid crocheter. Not only supplying her family with her signature blankets but also making and donating many to local care centers. She also donated her lap blankets to the Cancer Center and veteran's homes. It always made her happy to make others comfortable and the blankets were a true gift of love.
Before retiring Carmela was a home health-aid, again making life comfortable for others. She enjoyed maintaining her pool and then sitting back watching the ever-growing family having fun in the pool. Nothing made her happier than bringing her family joy! Carmela was an excellent cook and loved preparing meals for her family whenever she could.
Carmela is predeceased by her husband Richard of 50 years who passed in 2020, her three brothers, Michael, Joseph (her twin) and Robert DeLillo, her father Joseph and mother Antoinette DeLillo. Her first husband Robert died in 1968. She will also be reunited with her two sons, Michael and Ron, upon her arrival in Heaven.
Carmela is survived by her daughter Toni Hill and husband Mike, her son Robert Torgersen, her daughter Marie Davies and husband Jeff as well as her two daughters-in-law Ellie and Laurie Torgersen.
Carmela had 9 grandchildren, Elizabeth, Travis, Chelsea, Carly, Shane, Ronald, Rachel, Mason and Tanner and was blessed with 5 great grandchildren, Amelia, Lukas, Elise, Vivian and Jordyn.
Carmela, or Sis as she is known by her family, is also survived by many loving nieces and nephews and her sister at heart Jeanette DeLillo.
Even though she taught us perseverance and patience and reminded us that "Life Goes On', life will never be the same for all who loved and were loved by her.
A joint memorial service for both Carmela and Rich will be held on Saturday, June 26th at 1:00 pm at the family home in Pittstown, NJ. Arrangements are under the care of Martin Funeral Home, Clinton NJ. To send condolences to the family please visit www.martinfh.com
In lieu of flowers, donations in Carmela's name may be made through IN MEMORY OF for the South Branch Emergency Services, Please Click Here to Donate