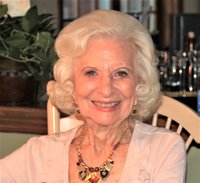 Nora Theresa Brocaglia
Nora(Appel) Brocaglia, age 100, of Clinton, NJ, passed away peacefully Friday, July 9, 2021, at home with her daughter by her side. Nora was born on November 4, 1920 in Passaic, NJ to the late Elizabeth and Morris Appel. She married her beloved husband, Carlo (Chuck) Brocaglia, on February 2, 1947. Together they raised a daughter, Joyce, whom they adored. Nora was an extraordinary mother and grandmother, who had quite the eye for fashion. She was a practicing Catholic, attending St. Brendan's in Clifton in her younger years, and then becoming a parishioner at Immaculate Conception for the past thirty years.
Nora is remembered as a remarkable woman who selflessly devoted her life to caring for her family and loved ones. She was an inspiration to everyone who knew her, and a tremendous role model to her daughter, granddaughters, and great grandchildren. Nora lived her life with compassion, optimism, and resilience, opening her heart to everyone. Ever graceful, elegant, always up on the latest styles and dressed to the nines. Her infectious laugh and sense of humor lit up any room she walked into. She made the lives of everyone she knew better. She continues to live in the hearts and minds of her family, who will carry on her legacy of love, compassion, laughter, and strength.
Nora will be forever missed by her loving daughter, Joyce and her husband, Ross; granddaughters, Lauren and her husband Zach, Lisa and her boyfriend Kevin, Jaclyn and her husband Jason; and great-grandsons, Jackson and Josh.
Nora is predeceased by her beloved husband, Chuck; brothers, Bill and Harry; and sisters, Betty and Rose.
Friends and relatives may gather with the family on Wednesday, July 14th, from 5:00 pm until 7:00 pm at Martin Funeral Home, located at 1761 Rt. 31 Clinton, NJ 08809. Remembrance remarks will begin at 6:00pm. Mass of Christian Burial will be offered on Thursday, July 15 at 10:00 am at Immaculate Conception Church, 316 Old Allerton Road, Annandale NJ.
Nora especially loved to help young women and children. In lieu of flowers please consider a donation in Nora's name: Help to provide scholarships for women to attend Carnegie Mellon University, Click Here to Donate and check the Endowed Fellowship Fund or to provide children with special needs and heart defects with a wonderful summer camp experience, please send donations to: Camp Echo 721 Oak Street, Bloomsburg, PA 17815