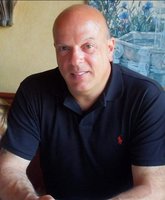 Anthony George Vassiliades
It is with deep sorrow and much love that we mourn the sudden passing of our beloved Anthony George Vassiliades aka "Tony". Tony went home peacefully to the kingdom of heaven to be with the Lord on July 13, 2021. His best friend and wife Luz, his sons Anthony and Michael, and his German Shepherd Luna were by his bedside in Glen Gardner, NJ.
Tony was born on Saturday February 14, 1959 in Rahay, NJ and is the son of George and the late Alice (née Dobozinski) Vassiliades, who he missed dearly and regularly spoke about.
Tony was a devoted family man, he married the love of his life Luz Alvenia on June 18th 2005 and together they raised their two sons Anthony and Michael. Tony deeply adored his sons, and dedicated his time raising them with a strong moral compass, catholic faith and important life skills. Despite their young age, Anthony and Michael have a foundation they will carry forward with them thanks to the strong example of their dad.
As an avid outdoorsman, Tony enjoyed hunting deer, and would spend hours on his tree stand, unphased by any weather, to get a glimpse and hopefully a clean chance. He would take and show pictures of all the wildlife he would witness while on his hunts. Tony was an expert hunting marksman with a variety of gear. Earlier in his life, he would hunt together with his brother George, and was looking forward to taking Anthony and Michael once they were old enough. In addition, Tony loved fishing trout, bass, and spend a lot of time on lake Hopatcong with his boat. Anthony and Michael enjoyed fishing by kayak together with their dad.
Aside from is family, Tony's biggest passion was football. He was a lifelong dedicated fan of the Pittsburgh Steelers, and taught his sons playing from an early age. They would go out to train any chance they had, and Tony would show Anthony and Michael how to hold the ball, run, catch, kick and punt. To gain strength and speed, he would encourage them to lift, run and practice their footwork. Together they would closely follow the NFL games. Most recently, he had remodeled his basement into a mancave, including hand made furniture, where the men would watch the Steelers, lift, and play darts and ping pong.
Tony trained in Martial Arts for many years, accomplishing an 8th dan black belt in Taekwondo. Luz and Tony also put their sons in training and practice, and both achieved 1st dan black belts.
Tony will be greatly missed by his beloved wife, Luz Vassiliades, two sons Anthony and Michael, daughter Roxanne with her family. He is also survived by his father George, his brothers David, George with his family, and his sister Deborah with her children.
Tony was a graduate of Colonia High School Class of 1978. Tony was a thirty-two-year veteran of the Elizabeth Police Department achieving the rank of Detective. He was a righteous, firm and fair keeper of public safety, particularly as it relates to enforcement against contraband and weapons, and received over 70 departmental awards, including four .75, twenty-seven .50, twenty-two .25 and fifteen Director Citation Awards.
Gathering of Family and Friends will take place on Monday, July 19th, from 4:00 pm until 8:00 pm at Martin Funeral Home, 1761 Route 31, Clinton, NJ 08809. Mass of Christian Burial will be offered on Tuesday, July 20th at 11:30 am at St. John Neumann Catholic Church, 398 County Road 513, Califon, NJ. Following mass, Tony will be laid to rest at the Immaculate Conception Cemetery, 316 Old Allerton Road, Annandale, NJ.

In lieu of flowers, a fund for Anthony and Michael's education will be setup through IN MEMORY OF Please Click Here To Donate