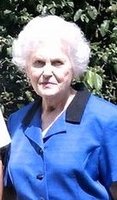 Dolores Marion Pitera
Dolores M. Pitera , of Cape May Court House, New Jersey, peacefully passed away at Cape Regional Medical Center at the age of 90. Dolores was born on June 24, 1931 to her Parents Wilbur and Dorothy (Itgen) Haughwout in Elizabeth, New Jersey.
She attended Thomas A. Edison Vocational and Technical High School and graduated in 1949. Following graduation she worked as a lab technician for the former Schering Plough Company, now known as Merck. She met her husband, and one true love, Henry and together they raised a beautiful family with sons Henry Jr., Richard and daughter Deborah. Dolores is predeceased by her loving husband Henry, and her brothers William Haughwout and Wilbur Haughwout. Dolores leaves behind a large loving family; son, Henry Pitera Jr. and his wife Geneva of Tornado, West Virginia, son, Richard Pitera of Easton, Pennsylvania, and daughter Deborah and her husband John Lukens of Cape May, New Jersey. Grandchildren; Henry, Sabrina, Christopher, Matthew, Adriane, and Amanda, as well as 8 Great-Grandchildren.
Dolores will also be missed by her brother, Robert Haughwout of Simpsonville, South Carolina and sister, Shirley Grant of Salmon, Idaho.
At the family's request services for Dolores will be held privately under the care of Martin Funeral Home, 1761 Route 31, Clinton NJ 08809. Entombment will be held at Immaculate Conception Mausoleum, Annandale NJ.