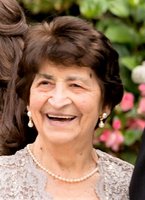 Antoinette Dolores Vitti
Antoinette Dolores Vitti, 92, of Voorhees, NJ passed away on Wednesday, August 11, 2021.

She was born on Saturday, September 15, 1928 in Settefrati, Italy, the daughter of the late Luigi and Tersea Casinelli. As a result of her mother's premature death, she was raised by her grandparents Anna Maria and Berardino Vitti. Growing up, Antoinette loved her experiences in Settefrati, but eventually immigrated to the United States in 1950. Before her departure from Italy, Antoinette learned a few things that stuck with her for life. She learned how to cook and prepare a meal perhaps for one or maybe the entire family, either way Antoinette's cooking was loved by anyone whom she had the pleasure of serving. The other talent Antoinette learned was that of a seamstress. Throughout her life she made a living creating and mending all things clothing, and truly enjoyed the difficult tasks of intricate embroidery.
When Antoinette first arrived in the United States, she settled in the Bronx, NY with the love of her life, her husband, Luigi. Together they raised a beautiful family with two sons, John and Bernie, and their daughter Theresa. Antoinette and Luigi raised their children in Fairview/ Cliffside Park, New Jersey which they loved. Antoinette was a very devout Roman Catholic who lived to serve the Lord. Even in her most recent years when she couldn't make it to mass, she made sure that she could see daily mass thanks to the EWTN Network (established by Mother Angelica), which airs live mass as well as other programming for Catholics around the world.
Antoinette is survived by her daughter, Theresa Arnold and her husband Mitchell of Mount Laurel, NJ; sons John Vitti and his wife Patricia of Lancaster, PA; Bernie Vitti and his wife Patricia of Washington, NJ; brothers Leonardo Casinelli; Mario Casinelli and his wife Palma; sisters Teresa Gentile and her husband Serafino; Anna Tramontozzi and her husband Loreto, all of Stamford, CT. She also had 12 grandchildren: Michael, Ryan, Nicholas, Melissa, Natalie, Paul, Joseph, Marielle, Louis V., Louis A., Marissa, and Jessica. She is also survived by Great-Grandchildren: Gabriella, Giovanni, Carter, Aidan, Luca, Matteo, Jeremiah, Evalyn, Patrick, Gianna, Rosalina, and Joseph.
Antoinette was predeceased by her beloved husband Luigi, whom we all pray she will meet again in heaven after 30 years apart.

A gathering of family and friends will take place on Sunday, August 15th from 1:00pm until 4:00pm at the Martin Funeral Home, 1761 Route 31, Clinton NJ 08809 and again on Monday, August 16th from 9:00am until 11:00am at the funeral home. A Mass of Christian Burial will be offered on Monday, August 16th at 12:00 PM at the Church of St. Ann, 6 Church Street, Hampton, NJ 08827. To send condolences to the family please visit www.martinfh.com
Donations in Antoinette's memory may be made to the Eternal Word Television Network (EWTN) through IN MEMORY OF, Please Click Here to Donate