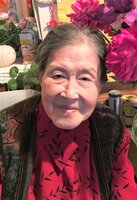 Hanruo Qian
Obituary of Qian, HanRuo (钱函若)
Today we gather with great sorrow to mourn the final departure of our beloved mother,Qian, Hanruo. Our mother passed away in the early morning hours of August 13, 2021 at the age of 87. She was born on June 1, 1934 to the late scholars Qian, Jiefu and Mi Ying. She graduated from Nanjing University of Posts and Telecommunications (南京邮电大学) in 1952 with a major in telecommunications. She started her career as an engineer in the telecommunications field and rose to become the COO of the Beijing Telephone Company in China. She worked in the first group of engineers who maintained the old telephone systems left by the Japanese in 1952. Later, she worked alongside Soviet experts to install the 1st semi-automated telephone system in Beijing, China. After retiring from Beijing Telephone Company, she became the Chief Engineer and Chairman to the Board for Qiaotong Telecommunications Service Company(侨通). There, she was a pioneer in the installation of payphone booths and creating the first information hotline (yellow page service) accessible to the public all over China.
Our mother endured and survived various political movements during the Cultural Revolution in China. Despite these difficult conditions, she was a strong and hardworking mother who raised and supported a family of four beautiful children alongside our father. In 1991, she immigrated to the U.S. and displayed her artistic talents as a seamstress. She also had a passion for music, singing, photography, arts and crafts, knitting, and floral design. In her later years, she enjoyed going to the senior center to teach arts and crafts. She enjoyed traveling and at the age of 84, she even climbed the Great Wall of China.
We are proud of our mother for her professional talents and dedication to our family. The most abundant wealth she has shared with us is her hard working spirit. We will always remember the kindness, dedication, and love our mother has given to us and the safe haven she has built together with our father. We will continue to follow her legacy and devote our lives to supporting, educating, and carrying on our family traditions to our next generations. Dear Beloved Mom, please rest in peace and we will miss you forever.
Xu Gang, Xu Hua, Xu Jun, Xu Shen
Gathering of family and friends:
Saturday, August 21th
10 AM until 12:00 noon
Martin Funeral Home, 1761 Route 31, Clinton NJ. 08809
To send condolences to the family please visit www.martinfh.com
Need Directions?
View Map | Text Directions | Email Directions
Followed by crematory ceremony by driving together to
Somerset Hills Memorial Park and Mausoleum from 12-1(estimate)
95 Mount Airy Road
Basking Ridge, NJ 07920
ABOUT | Somerset Hills Memorial Park (shmpcemetery.com)
View Map
Followed by a Celebration of her Life from 1-3 at
Please RSVP by Friday Aug 20th to Michelle 862-210-0978
China Chalet
184 Columbia Turnpike, Florham Park, NJ 07932
973-966-2828
Map:
https://www.google.com/maps/place/China+Chalet/@40.7891169,-74.3931436,15z/data=!4m5!3m4!1s0x0:0x7ddc3c8054f4d78c!8m2!3d40.7891327!4d-74.3931815
Local Florist info:
Greens and Beans of New Jersey
Clinton, NJ
Helen's Florist at White House Station, NJ
https://www.helensfloristnj.com/category/sympathy/11/display
For Qian, HanRuo on Sat 8/21
Send to Martin Funeral Home, 1761 Route 31, Clinton NJ. 08809