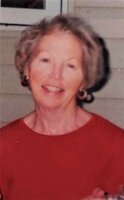 Mary Elizabeth Burke
Mary Elizabeth Burke, age 96, passed away Friday, August 27th, 2021, at the Country Arch Care Center in Pittstown, NJ. Born May 20, 1925, in Pottsville, Pa, Mary was the daughter to the late Sylvester Kerwick and the late Kathryn Ladden Kerwick.
Mary was a graduate of the Women's Homeopathic School of Nursing. She had an admirable career as a registered nurse who had worked at Children's Specialized Hospital located in Mountainside, NJ. She married her beloved husband, Thomas F. Burke, in June of 1950. Together they had four children; Thomas, Margaret, Ellen, and James, whom she adored. Mary will be remembered for her great sense of humor, light heartedness, and devotion to her family and her Catholic faith. She will be missed by all who knew her.
Mary is survived by her loving children, Thomas Burke and his wife Robin of Annandale, NJ, Margaret Croat and her husband Joseph of Milford, NJ, Ellen Hrindo and her husband John of Annandale, NJ, and daughter in law Isabel Burke of Newtown, Pa; her 8 grandchildren; and 3 great-grandchildren. Mary is also survived by her two sisters, Margaret Ann Barnhill of Orlando, FL and Kathryn Ashworth of Westchester, PA.
Mary is predeceased by her beloved husband, Thomas F. Burke and her son, James K. Burke.
A Mass of Christian Burial will be held Thursday, September 2, 2021 at 11:00 am at Immaculate Conception Church, 316 Old Allerton Rd. Annandale, NJ 08801. Immediately following mass, inurnment will take place at Evergreen Cemetery located on Halstead St. Clinton, NJ 08809. In lieu of flowers, donations in Mary's name may be made to a charity of your choice.