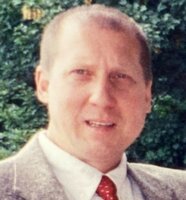 John Joseph Ciszewski
It is with deep sadness that we announce that John Joseph Ciszewski, 65, passed away on August 13, 2021 at his home in Stroudsburg, PA. He was a loving father and grandfather, an active member of the community and his local church. In his final year of declining health, he found solace in his faith, and his deep love of family and friends.

John was born on December 21, 1955 in Jersey City, New Jersey to William and Virginia Ciszewski. Raised in Fairview, New Jersey, he was the second of eight children and enjoyed the loving, bustling atmosphere of a large Christian family. John will be remembered as an outstanding athlete in high school, excelling in football and basketball. John went on to pursue a BA in Philosophy and BS in Accounting from NYU. He later attained the level of CPA and CFP, and even completed a JD in Law from the California School of Law.
He supported his family by working for over 2 decades with the United States Postal Service while also running his own accounting practice. Despite his busy schedule he always made time for his three children, coaching their soccer and baseball teams while also instilling his own faith in God, love of learning, and compassion for others.

His surviving family members are numerous but mainly include his 3 children: Jennifer, John Jr., and Allison; his grandson Dylan; and his 7 siblings: William, Mary, Ed, Paul, Peter, Anne, and Therese. He is also survived by many nieces, nephews and cousins.

Mass of Christian Burial will be offered at Immaculate Conception Church located at 316 Old Allentown Rd, Annandale, NJ 08801 on Wednesday, September 29th, 2021 at 10am. He will be interned afterwards near his parents, with whom he is now reunited with in heaven.

Due to COVID-19 we will be offering a virtual option for viewing the mass. If you are interested in attending virtually, please email jennciszewski@yahoo.com to receive a link to the service.