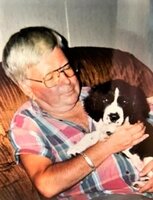 Dale John Butler
Dale John Butler, age 78, of Bethlehem, Pa, passed away Monday, August 30, 2021. Born March 8, 1943 in Washington, DC, he was the son of the late Julian Merrick Butler and the late Ann Marie (nee Feenan) Butler.
Dale was a 1961 graduate of Plainfield High School. He married his beloved wife, Adele, on September 9, 1967. Together they raised a son, Kevin, whom they adored. Dale had worked as a computer programmer. He was a member of the Benevolent and Protective Order of Elks. Dale enjoyed taking meticulous care of his yard and playing with his English Springer Spaniels.
Dale is survived by his son, Kevin Butler. He is predeceased by his wife, Adele C. Butler and his brother, Jay M. Butler.
Friends and relatives may greet the family on Saturday September 18th from 10:00 am until 11:00 am at the Martin Funeral Home, 1761 Route 31, Clinton, NJ 08809. Interment will be held privately at Bloomsbury Cemetery.