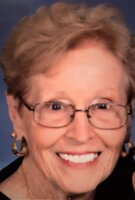 Joan L Eacovalle
Joan Eacovalle, 80, of Glen Gardner, peacefully passed away at her home surrounded by her loving family on September 21, 2021. Joan was born on January 10, 1941 in Phillipsburg, New Jersey to parents William and Dorothy Lambert. In 1959 Joan graduated from North Hunterdon High School and continued on to earn a Bachelor's Degree from Montclair State University. During her high school and college years Joan was quite the athlete and received many accolades for her performance on the field hockey field as a goalie. Shortly after college Joan married the love of her life Louis 'Lou' Eacovalle on August 28, 1965. Together they raised three wonderful daughters Amy, Erin, and Gina.
For 38 years, Joan was a physical education and health teacher in the Bridgewater-Raritan Regional School District before she retired in 2000. Not only a wife, a mother, and a grandmother, Joan was a volunteer. Joan for many years volunteered with the Somerset County Special Olympics and was awarded the Marti Helwig Volunteer Award during her tenure. Joan was also an active member at St. John Neumann's Roman Catholic Church in Califon, New Jersey where she was a Eucharistic Minister and served roles in multiple church ministries. Joan loved spending time with her family and went to as many events and athletic games as she could not only for her children as they grew up but also for her four grandchildren whom she adored. If she wasn't spending time with her family and many friends in New Jersey, chances are you could find her with Lou down at their second home in South Carolina where they were always met by their "southern family." You could also find Joan relaxing while crafting, sewing, or simply trying to finish the daily crossword. Joan also enjoyed the time she spent camping with the "We Brave Its" camping club.
Joan is survived by her husband Louis Eacovalle, her daughter Amy Schroeter and her husband Mattias, daughter Erin Cookson and her husband John, daughter Gina Evans and her husband Joe, Brother James Lambert and his wife Sherry, Grandchildren Kate and Caden Cookson and Ryan and Will Evans, as well as many nieces, nephews and great nieces/nephews.
Joan is predeceased by her father William Lester Lamber and her mother Dorothy Riordan Lambert.
The family would also like to give special thanks for the great care provided to Joan in the last few years from Dr. Paul Madura, Dr. Hemal Mehta, Dr. Austin Kutscher, Dr. Jeffrey Stewart, Hunterdon Medical Center, Hunterdon Hospice, and the Lebanon Township Volunteer Rescue Squad.
In lieu of flowers donations in Joan's name can be made to the American Lung Association, Click Here to Donate
At the request of the family all services will be held privately at this time.