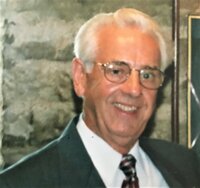 Andrew Joseph Gorey
Andrew Joseph Gorey, 84, of Annandale, New Jersey, went home to his beloved Heavenly Father on September 18, 2021.
Andy was born on March 30, 1937 in Clonbullogue, County Offaly, Ireland. He was the sixth of seven children born to his parents Julia and Edward. As a youth, Andy was a promising student, athlete, and altar boy. During his life, he often spoke fondly of the twenty-four miles of Irish countryside he traveled each day bicycling from his parents' farm in Clonbullogue to school in Monasterevin, County Kildare.
After the death of his father and encouraged by his school principal, Andy left Ireland and immigrated to Manchester, England in 1957 for better opportunity. He quickly began work as a red double-decker bus driver.
In 1958, Andy's life changed when he met Mary Philomena Galvin, originally from County Galway, Ireland, at a dance for Irish youngsters in Manchester. Andy always said that he fell in love at first sight. After a night of dancing, they began dating. From 1959-1961, their courtship was interrupted by his two-year tour of duty abroad in the English Army. During their time apart, they exchanged countless letters. Luckily Andy had a way with words, and when he returned, Mary was waiting. They married on September 7, 1963.
In 1967, Andy and Mary, along with their daughters Marie and Catherine, immigrated to the United States, settling in West Islip, Long Island, New York. Soon after, they welcomed their son Andrew into the world. Andy taught his children to dance, to laugh, and to play, and to never give less than their best. Andy was their Mr. Fix-It for any problem, big and small.
After two years working for Pan-Am Airways, Andy began his twenty-eight-year career with British Airways – first at JFK Airport and later at O'Hare Airport in Chicago. A hard worker, Andy quickly rose to the position of cargo supervisor.
Throughout his life, Andy was involved in a variety of community service. Emblematic of his lifelong commitments to his Catholic faith and his motherland, Andy was a longtime member of the Division #2 chapter of the Ancient Order of Hibernians in Babylon, New York. He served as president of the chapter from 1981-1982.
In 1998, Andy retired from British Airways and began his second career: full-time grandpa. "Buddy" – as his grandchildren called him – loved to sing and dance to Irish and Gaelic songs with his family. After a number of years living in Florida, Andy and Mary settled in New Jersey, where they could be closer to their grandchildren. He filled his days with his grandchildren and enjoyed attending all of their sports games, recitals, concerts, and ceremonies. No matter the outcome, Buddy and Nana were always there with a smile and a candy.
Andy is survived by his loving wife of 58 years, Mary; children Marie (Robert), Catherine (Glenn), and Andrew (Jamie); grandchildren Ethan, Moira, Clare, Megan, Sara, and Finley; brother Broughan; and many nieces and nephews. Andy is also survived by many cherished family members overseas. Andy was predeceased by his parents Julia and Edward; sisters Moira and Sheila; and brothers James, Eamon, and Sean.
Along the path of life, Andy made many friends who were drawn to him by his good cheer, wit, and loyalty. In return, Andy deeply loved all of his friends and family.
In a letter Andy penned in 2018, he wrote: "Do not grieve too long for me, just remember all the good times we have had together. I have strived to be a good husband, father, grandfather (Buddy) and father-in-law. . . . I have had a wonderful life, and each one of you, especially Mary, the love of my life, have added something to make my life a wonderful experience. All my love to all."
Services will be held privately. In lieu of flowers, Andy would have wanted you to take a moment to remember the good times you had with him, and to express your love to those in your life over a round of drinks and a toast to "sláinte!"