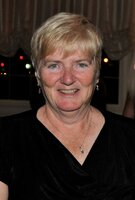 Gene Marie McCartney
Gene Marie McCartney (McCabe), 76, of Hampton, passed away on October 9, 2021 with her family by her side at Chelsea at Brookfield in Belvidere. Gene was born in Newark, NJ and raised in East Orange NJ. She attended East Orange Catholic High School and Berkley Business School. Gene married Cornelius (Neil) McCartney in 1969 and moved to Hampton, NJ in Hunterdon County in 1975.
After having children, Gene was a homemaker until she became the Clerk for the Borough of Hampton where she became a Registered Municipal Clerk (RMC). She also became a Chief Financial Officer (CFO) in Lebanon Township and Blairstown. After "retiring" she was part-time CFO for Frelinghuysen and Knowlton Townships and worked on the Election Board in Hampton for many years.
Gene loved to spend her time golfing, walking (often with her grand dog, Hyde) and going to the gym. She never had a bad day of golf, it was always a beautiful day. She spent years traveling to golf with Neil and other beloved family members. Gene and Neil loved the time they spent babysitting their grandchildren Tristan and Cameron and they enjoyed teaching them to golf at Fairway Valley and Apple Mountain where Gene was involved in the ladies' golf clubs. She loved playing water volleyball at the gym, where she had the nickname of "Mean Gene." She also enjoyed riding her bike the length of the Columbia Trail, making sure she had her bear bells. Gene always enjoyed taking her grandchildren and their friends on excursions to Camel Beach waterpark, biking, hiking at the Gorge and Kayaking on the Musconetcong River.
Gene is survived by her three daughters, Bernadette Leiby and her husband Jeremy (Favorite Son-In-Law) of Washington Township, NJ, Michelle McCartney of Greenwich Township, NJ and Frances McCartney of Morristown, NJ as well as her 2 cherished grandsons, Tristan and Cameron Leiby. Gene is predeceased by her loving husband, Neil, her parents, Eugene and Marie McCabe and her brother, George McCabe. She will be missed by many family and friends.
Memorial visitation will be held on Friday October 22nd from 10:00 am until 12:00 pm at the Martin Funeral Home, 1761 Route 31, Clinton NJ 08809. A service of remembrance will be offered at 12:00 pm in the funeral home following the visitation. Inurnment will follow at Musconetcong Valley Cemetery in Hampton NJ.
In lieu of flowers, donations in Gene's name may be made to Alzheimers Research Foundation, Click Here to Donate or the Ennoble Care Hospice, Click Here to Donate .