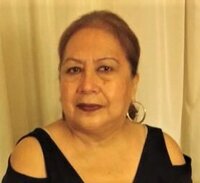 Gloria Maria Sevillano
Our precious and beloved mother, Gloria Maria Sevillano Davila, passed away on Thursday, October 28, 2021, after a long battle with metastatic breast cancer. It would be wrong to say that Gloria lost her battle because she never stopped fighting. No matter how sick she was, she was always determined. When anyone else would have broken, Gloria stayed strong. Through her, we know what resilience and perseverance truly look like. There was no quit in Gloria. Just because she is no longer here, it doesn't mean she lost her fight. Even in her last moments she decided when to leave. Gloria closed her eyes in her home surrounded by the love of her relatives and children Ernesto, Lorena, Vanessa, Lucero, Gloria, and her sister Ana.

Gloria was born in Casma, Peru on April 20, 1946, during Holy Saturday. She raised her children with love and devotion, Gloria was always a fighter; her strength has been the pillar for her family. Her friends and family knew her as a kind soul, a world traveler, always willing to help anyone that needed. Gloria is survived by her children, siblings, grandchildren, great grandchildren, and ex-husband Ernesto Velasquez, she rests in peace knowing her legacy will continue.

Friends are invited to say a final goodbye to Gloria at, The Church of Saint Ann, 6 Church Street, Hampton, NJ 08827 for Mass of Christian Burial at 12:00 pm on Monday, November 1, 2021. Interment will follow in the church cemetery.
-————————————————-

Nuestra preciosa y querida madre, Gloria María Sevillano Dávila, falleció el Jueves 28 de octubre del 2021, después de una larga batalla contra el cáncer de mama metastásico. Sería un error decir que Gloria perdió su batalla, porque nunca dejó de luchar. No importaba lo enferma que estuviera, siempre estaba decidida. Donde otros se hubiesen rendido, Gloria se mantuvo estoica. A través de ella, hemos aprendido el verdadero significado de resiliencia y perseverancia.

Gloria nunca renuncio a luchar contra su enfermedad. El hecho de que no siga aquí, no significa que haya perdido su lucha, incluso en sus ultimos momentos luchó hasta el final. Gloria cerró los ojos en su casa rodeada del amor de sus hijos Ernesto, Lorena, Vanessa, Lucero, Gloria, su hermana Ana y todos sus familiares que la amaban.

Gloria nació en Casma, Perú, el 20 de Abril de 1946 en un Sábado de Gloria. Crió a sus hijos con amor y devoción, Gloria siempre fue una luchadora; su fuerza ha sido el pilar para su familia.

Sus amigos y familiares la conocían como un alma amable, una viajera del mundo, siempre dispuesta a ayudar a cualquiera que lo necesitara. A Gloria le sobreviven sus hijos, hermanos, nietos, bisnietos y su ex esposo Ernesto Velasquez.
Gloria descansa en paz sabiendo que su legado continuará en ellos.