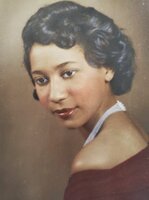 Constance Garnet Lovell Roberts Gates
Constance Garnet Lovell Roberts Gates, second daughter of the late Walter Raleigh Lovell, Sr. and Coretha Maize Lovell (nee Flack), was born on January 15, 1931 in Portland, Oregon. She departed this life on November 11, 2021 in Califon, New Jersey.
Constance spent her childhood years in Portland Oregon, Sacramento and Berkley California, prior to attending grade school in Los Angeles where her father and mother served several pastorates in the African Methodist Episcopal Zion Church during the early 1930's. Her father was serving as pastor of First Church in Los Angeles when he was elected Editor of the Church's Organ, the Star of Zion newspaper, in 1939. The family traveled cross-country to Charlotte, North Carolina where Constance completed her elementary education at Biddleville Elementary School. She later attended West Charlotte High School where she graduated in 1949. That same year, she completed the requirements for a high school diploma in piano studies from the National Guild of Student Musicians while studying at the Beckwith School of Music under the direction of its founder, the late Margaret Demond Beckwith. After high school, she attended Howard University in Washington, DC, where she earned her Bachelor's in Music Education in 1954.
While a student at Howard, she married Robert Wakefield Roberts, a paratrooper in the 82nd Airborne Division of the United States Army and seminary student at Lincoln University. After her graduation from Howard, the couple moved to Philadelphia to live with her in-laws where their first son, Michael Kwesi, was born in 1954. After his military service ended, her husband assumed his first A.M.E. Zion pastorate in Gettysburgh, PA. Soon afterwards, he accepted the pastorate of St. John A.M.E. Zion Church and the family settled in Bethlehem, PA where three more children were born, Gary Ekou in 1957, Pamela Rene in 1958, and Lynn Frances in 1961. Constance was the first African American teacher to be hired by the Bethlehem Area School District in 1963, where she taught vocal music and directed the glee club at Northeast Junior High School until 1975. While teaching and raising her four children she earned her master's degree in elementary school guidance from Kutztown University and served as the Vice President of the local chapter of Delta Kappa Gamma, a professional society for women educators. After divorcing her first husband in 1976, Constance moved to Washington DC and embarked on a long career of public service with the Small Business Administration and later with District government. She married her second husband, Gerald Maurice Gates, in 1982. Her musical endeavors resumed after her retirement, as she served as an organist and guest musician in various churches throughout the metropolitan area. Other musical activities included playing piano for Kiddie's Kollege, Inc. in Maryland, and the Lisner Louise Dickerson Hurt nursing facility in northwest Washington, DC. In addition to providing private piano lessons in her home, she further pursued her creative talents with her self-styled calligraphy and water-color folk art, "Pen and Brush Designs".
Constance leaves to mourn her brother Walter Raleigh Lovell, Jr, and sister-in-law Jannette Lovell of Fort Mill, SC, her son Gary Roberts of Bethlehem, PA, her daughter Pamela Baker and son-in-law Gregory E. Baker of Ringoes, NJ, her daughter, Dr. Lynn Roberts of Teaneck, NJ, her seven grandchildren, Keely Raquel Grant and husband Ryan Anthony Grant, Thaddeus Roberts Beall, Lanee Antoinette Beall, Cameron Sage Beall, Zachary Michael Baker, Kyra Maddison Baker and Alexander Robert Baker, six great grandchildren (Isaiah, Jonah, Naiella, Jada, Aria and Nova), as well as step son Marlon Gates and wife Rhonda Gates, step daughters, Jeralyn Anice Gates and Tracey Noreen Green and a plethora of nieces, nephews, step grandchildren, step great grandchildren, grand nieces and nephews, as well as hundreds of students who learned and developed their talents in music under her skillful tutelage and loving guidance. Constance was preceded in death by her beloved husband, Gerald, her eldest son, Michael, her sister, Ida Lightford Lovell Jenkins Brangman, and her brother, Jesse Edward Lovell.
Those who wish to view the service via Livestream, PLEASE CLICK HERE FOR LIVESTREAMING