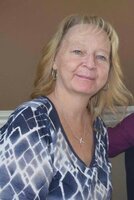 Heather Jamie Petrus
Heather Jamie Petrus, age 64, of Milford, NJ, passed away peacefully in her home, surrounded by her loving family on Thursday November 25, 2021. She was born on October 25, 1957, in Montreal, Quebec Canada, and was the daughter of the late James and Willis (née Law) Allan.

Heather married the love of her life, Bobby Rugs Petrus, on December 21, 1975. Together they raised their two children Robert and Jamie. As the children grew, Heather worked side by side with her husband in their flooring business.
When not working, Heather was busy taking care of her horses, chickens, goats, sheep and was an active member of the Clinton Elks Club and was a Canteen Member of the Elk Mountain VFW. Heather made many friends throughout her life and will be greatly missed by all who knew her.
Surviving Heather is her beloved husband of 45years, Bobby Rugs Petrus; son, Robert M. Petrus; daughter, Jamie Gregson and her husband, William; granddaughter, Teagan Hershey Gregson; sister, Jean McGarry; brother, Hugh Allan. Also surviving are her nieces, Barbara Smith, Monica Chizmadia, Catie Petrus, Nicole Petrus, Jessica Petrus, and Patricia Petrus; nephews Jack Surma and Anthony Blackfeldt; her loving dog Nadiyah and too many friends to name.
Heather was predeceased by her parents James and Willis Allan, mother-in-law Lillian Petrus, brother-in-laws Charlie Petrus and Gerry "Scotty" McGarry.
A gathering of family and friends will be held on Wednesday, December 1st, from 4:00 PM until 8:00 PM at Martin Funeral Home, 1761 Route 31, Clinton, NJ 08809. Service of Remembrance will be held on Thursday December 2nd at 11:00 AM at the funeral home. Cremation will be held privately after the services. To share memories with the family or to send condolences, please visit www.martinfh.com
In lieu of flowers, donations in Heather's name may be made to the Clinton Elks Club, P.O. Box 446 Pittstown, NJ 08867


.