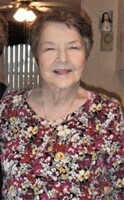 Michelina Pater
Michelina (nee Natale) Pater, age 93, passed away Friday, December 10, 2021, at Independence Manor in Flemington, NJ. She was born May 8, 1928, to the late Giovanina and the late Vito Natale.
Michelina met her beloved husband, Donald, while she was working as a dietician at North Hudson Hospital. She will be missed by all those who knew her.
Michelina is survived by her sister, Jean MacLean; Goddaughter, Donna Karmann; dear friend Ginger Urchoili with whom she shared a friendship of nearly 50 years, Caretaker/Guardian, Linda Jung and many nieces and nephews.
Michelina is predeceased by her loving husband, Donald Pater; her dear mother-in-law Mildred Pater; brothers, Ernest Natale, Alfred Natale, Joseph Natale, Frankie Natale, and Louis Natale; and sister, Mary Costa.
Cremation was held privately under the care of Martin Funeral Home, Clinton NJ. To share memories with the family please visit www.martinfh.com