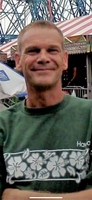 Thomas David Christie
Thomas D. Christie, 56, of Wantage, NJ passed away suddenly on December 21, 2021. Tom was born on August 15, 1965 to loving parents Abbie and David Christie in Belleville, New Jersey. He grew up in Berkeley Heights and graduated from Governor Livingston High School in 1983.
Most recently Tom had been working as a sales representative with Metro Supply, a stone and masonry supply company in Rockaway, NJ. He was a proud father to his son Tom, Jr. whom he loved with all his heart. In his spare time, Tom enjoyed cooking and experimenting with new recipes in the kitchen and on the grill. He also enjoyed hitting the links and playing a round of golf whenever he had the chance. He was also a huge Giants fan and was a season ticket holder for many years. His favorite pastime was going to the beach which he loved to do with his son and nieces and nephews. He had a love for music, and was the life of the party wherever he went. His most recent passion was working and developing his newly acquired farm, where he had turkeys, ducks and chickens with several expansion projects in the works.
Tom will be forever missed by his son Thomas Christie Jr., father David Christie, brother Andrew Christie (Catalina), sister, Kathleen McDermid (John), his nieces, nephews, and former wife, Nancy.
Tom was predeceased by his mother Abbie Christie (nee McDonald).
A memorial service to celebrate Tom's life, will be held on Saturday, January 15 at the Westminster Presbyterian Church, 725 Mountain Ave. Berkeley Heights, NJ 07922, at 10:00 AM. Here his relatives and friends can reminisce about all the wonderful memories he created and celebrate his life. Arrangements are under the care of Martin Funeral Home, Clinton, NJ. To send condolences to the family please visit www.martinfh.com.
In lieu of flowers, contributions may be made in Tom's name to Westminster Presbyterian Church, Click Here to Donate