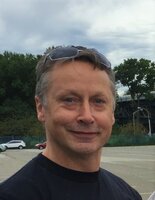 Robert Steven "Bob" Horvath
Robert "Bob" Horvath, 55, of Hampton, New Jersey passed away suddenly on December 22, 2021. Robert was born on January 15, 1966 in Heidelburg, Germany to loving parents Charles and Dianne Horvath, while Bob's father Charles was stationed in Germany. While Bob was born in Germany he was raised in Dover, New Jersey. Growing up Bob was known as quite the athlete and was even named an All-County Defensive End at Dover High School, where he graduated from in 1984. Bob continued his education and earned his Bachelor's, Master's, and Doctorate from Rutgers University. Bob was a Scarlet Knight thru and thru and after earning his PhD he has continued to work as a Laboratory Manager at the Busch Campus in Piscataway. Bob even earned several patents in material science engineering. Of all of his accomplishments, though, Bob was most proud to be a father to his four children Angelia, Juliana, Christian and Andrew. Bob cherished every moment he got to spend with his children and watching them grow up to be who they are today.
In his spare time Bob loved to spend his time outside. He was an avid skier and traveled from Colorado, to Whistler, to Park City, just to enjoy the slopes. Bob also enjoyed fly fishing in any river he could. And when the weather was right you may have even passed Bob while he was cruising around on his motorcycle. Bob was also a very handy man and enjoyed renovating his home. He even remade a workshop/studio room where he could play his guitar, blow glass, or teach a class. Bob just loved to live life and spend it with the people who meant the most to him.
Bob will be forever missed by his father Charles Horvath, brother Chuck Horvath, sister Anne Fernicola, daughters Angelia and Juliana, and sons Christian and Andrew Horvath.
Bob is predeceased by his mother Dianne Horvath(nee Decker).
At the request of Bob's family all services will be held privately.