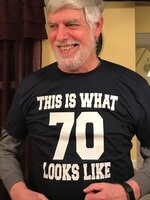 Glenn Kenneth Bishop
Glenn K. Bishop, 72, of Hampton, New Jersey passed away peacefully on December 24, 2021, shortly after convening with loved ones. Glenn was born on March 3, 1949 in Jamaica, Queens to loving parents Leroy and Jean Bishop. Glenn grew up in New Hyde Park, New York, later moving to Ironia where he graduated from Randolph Township High School in 1967. Glenn was married and raised four children, Alison, Drew, Dana, and Kelly, whom he deeply adored. Most recently, Glenn worked in information technology as a site services technician for Atos in New Brunswick, New Jersey.
Glenn was an outgoing, big-hearted person and was known to talk to anyone and everyone. Above all, Glenn loved to be with his family, and it didn't matter if it was simply hanging out and drinking some "good beers" aka Molson Golden or rolling up his sleeves and getting his hands dirty. Everyone knew they could count on Glenn. He was known to start a million projects, but rarely finish one — he moved a mile a minute and always had another task to complete. Glenn loved to sail and spent many a summer day on Skaneateles Lake in New York, creating a lifetime of memories with his children. Glenn also took great pride in landscaping, always making sure the lines in his grass were crisp.
Glenn's disposition and love of life made a lasting impression on everyone who had the pleasure of meeting him. One of his close colleagues said, "Glenn's knowledge of IT was only surpassed by his kindness." He will always be remembered as a good, kind, and a loving man.
Glenn will be forever missed by his daughters Alison Miller, Dana Bishop, and Kelly Bishop, son Drew Bishop, brothers Scott and Keith Bishop, and sister Diana Peloquin.
He is predeceased by his parents Leroy and Jean Bishop.
Services for Glenn will be held privately with a celebration of life service to come in the near future.
In lieu of flowers, donations can be made in Glenn's name to Norwescap Food Bank at norwescap.org.