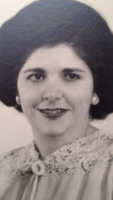 Olivia D'Ambola
Olivia D'Ambola nee' Intili, of Annandale, N.J. passed away on December 30, 2021, at the age of 98.
Born and raised in Newark, N.J., Olivia raised her family in Hillside, N.J. before moving to Roselle Park, N.J. and then to Henderson, Nevada. Olivia returned to New Jersey in 2014, residing in Cranford before moving to Annandale. Olivia was most happy when she was president of the Calvin Coolidge PTA in Hillside N.J., member of the Hillside Italian American Club and years on the Sunset Bowling League.
Olivia was predeceased by her husband of forty-nine years, Nicholas D'Ambola, sister Angelina Intili, and brother Joseph Intile. Olivia is survived by her daughter Patricia D'Ambola Krajcech of Henderson Nevada., her son Robert D'Ambola and his wife Cynthia of Annandale, N.J., grandchildren Wendy Krajcech, Steven D'Ambola and his wife Kelly, and Christopher D'Ambola and his wife Kathryn. Olivia leaves behind three beautiful great-grandchildren, Nora D'Ambola, Gordona D'Ambola and Elliot D'Ambola, in addition to many loving nieces and nephews.
Due to COVID concerns, there will be no memorial services.