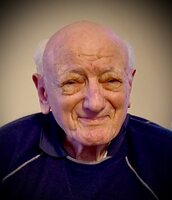 Anthony R. Milano
Anthony Milano was born on August 24, 1929, to Aniello and Antoinette Milano in Orange New Jersey. He was raised in East Orange and graduated from Clifford Scott High School. He attended Rutgers University and received a degree in accounting. Before pursuing a career in business, he fought for our country in Korea as part of the United States Army.
Upon returning to the states, he worked for MacNicol, Johnson Accounting firm where he met the requirements of becoming a Certified Public Accountant. His career led him into the healthcare industry where he worked in various financial positions with Valley Hospital in Ridgewood, JFK Medical Center in Edison, and ultimately the Executive Director of Summit Medical Group in Summit, NJ where he retired in 1992. During the course of his career, Anthony earned a Master's degree in business administration from Seton Hall University and a Master's degree in Hospital Administration from Wagner College.
Anthony was predeceased by his wife Katherine with whom he celebrated more than 64 years together. They raised their children, Neil and Carole, in Livingston, NJ, and spent more than 50 wonderful years at their summer home on the Jersey shore in Avalon, NJ. In his retirement they lived in Lebanon, NJ to be close to the grandchildren, but in later years moved to Palm Beach Gardens, Florida as a warm weather refuge. Anthony resided in Franklin, TN since 2019.
Anthony enjoyed traveling through the United States, Europe, and Disney World, but would mostly reminisce about the summer breezes sitting along Lake Como in Italy. He was an avid NY Yankees fan, always enjoyed a great mystery thriller book, and would never turn down a scoop of chocolate ice cream!
Anthony is survived by his two children Neil Milano and his wife Eileen, Carole Frey, and three grandchildren Kyle Frey, Brett Frey, and Ryan Milano. Anthony was a pillar of strength for the family, always providing loving and fatherly support. He will be truly missed by all those who loved him.
In lieu of flowers, donations can be made in his honor to the NY Yankees Foundation or the Avalon Free Public Library, Avalon NJ.