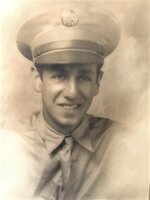 Salvatore "Sam" DiSabatino
Salvatore (Sam) DiSabatino, passed away peacefully at home in Califon, where he lived with his daughter on Sunday January 16, 2022. Born in Staten Island, in 1921, Mr. DiSabatino, celebrated his 100th Birthday this past September.
After returning home from service in the U.S. Army during WWII, Sam joined the New York Steamfitters Local where he worked as a welder until his retirement. Mr. DiSabatino was a man of many talents. At age 40, he became a self-taught oil artist. In 1976, after moving to Pittstown, NJ, Sam became active at the Hunterdon County Senior Center where he was the recipient at their Senior Art Show of over 26 awards, for his beautiful paintings, many of which were first place winners. One painting was a first-place winner for the entire State of NJ.
Sam meticulously tended his property, raised horses, could build, and fix practically anything and single-handedly built a cabin cruiser boat for his family's enjoyment.
Mr. DiSabatino is predeceased by his wife Phyllis (Trivisone) and brother Ralph DiSabatino.
He is survived by his brother Albert DiSabatino of Staten Island, NY, and sister Florence Brown, of Jeffersonville, NY. Also surviving are children Patricia (John) Arceri, Lois Connelly, and Elizabeth (Wayne) Anthony. He will be greatly missed and lovingly remembered by his six grandchildren, Jessica Arceri, Jocelyn Bajenaru, Christine Weiler, Robert Weiler, Lydia, and Daniel Anthony: seven great-grandchildren, Abe Williams, Brennan, Brooke and Brady Weiler, and Juliet, Amelia and John Bajenaru as well as four nieces and nephews.
All services will be held privately at this time under the care of Martin Funeral Home, Clinton, NJ. To send condolences to the family please visit www.martinfh.com
In lieu of flowers, donations in Mr. DiSabatino's name may be made to Hunterdon Hospice.