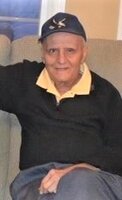 Bipin Amritlal Shukla
Bipin Amritlal Shukla, age 87, passed away peacefully on, Wednesday February 2, 2022 at his sons home. He was born December 20, 1934 in India and was the son of the late Amritlal and Ansuya Shukla.

Bipin got a Government of India scholarship to attend New York University, where he got his Masters in Chemical Engineering. He then worked for Warner Lambert Corporation in Morris Plains, NJ before settling back in India after his marriage. Bipin once again came back to the United States in 1983, this time with his wife Gopa and their two children. He finally retired from Gaines Chemicals in Carlstad, NJ.
He was a devoted husband, father and grandfather who valued family and loyalty above all. Bipin is survived by his wife Gopa, son Rajat, daughter Sonali, grandchildren Anjali and Roshan and daughter in law, Rekha. He was predeceased by his parents, Amritlal and Ansuya and his brothers, Virendra, Ramesh and Rajendra. He also leaves behind several nephews and nieces.
Services for Bipin may be viewed via live stream on Monday, February 7th from 9:30 am until 11:30 am, Please Click Here for Live Streaming.






.