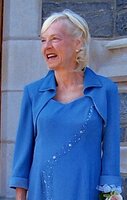 Roberta Lynn Kober
Roberta Lynn (nee Hanson) Kober, age 75, went home peacefully to be with her loving Lord and Savior, surrounded by her loving husband, son, and daughter-in-law by her side on Thursday, February 10, 2022. Roberta was born on November 15, 1946, in Hackensack, Bergen County, NJ to the late Robert and Ethel Hanson.
Roberta grew up in Hillsdale, Bergen County, NJ with her mother, father, and brother. She was a 1964 graduate of Pascack Valley Regional High School. She completed two years of nursing school at Presbyterian Nursing School. Roberta worked as a registered nurse. She lived in Hillsdale, NJ up until her marriage to her beloved husband, Vietnam Veteran Captain Stanley Kober, on September 6, 1969. Following their marriage, Roberta and Stanley moved to Ho-Ho-Kus, Bergen County, NJ, where they raised their pride and joy, their son Erik. They resided in Ho-Ho-Kus for 50 years until 2021, when she and her husband moved to Glen Gardner, Hunterdon County, NJ to live with their West Point graduate son and his beloved wife, and their four extraordinarily loving grandchildren. Roberta had an amazing gift of making others happy, which was her hobby and highest interest, especially when she presented people with her gifts and handmade napkins given with love. Roberta was exceptional in this and will be forever remembered for her generous heart.
Roberta will be forever missed by her husband, Stanley Kober; son, Erik Kristian Kober; daughter-in-law, Anna Kober; grandchildren, Sophia, Haley, William, and Charlotte; and puppy dog Carley.
Roberta is predeceased by her parents, Ethel and Robert Hanson.
All services were handled privately by the family under the care of Martin Funeral Home, Clinton NJ. To send condolences to the family, please visit www.martinfh.com
In lieu of flowers, donations in Roberta's name may be made to Shepherds College, 1805 15th Avenue, Union Grove, WI 53182-1597. Please Click Here to Donate