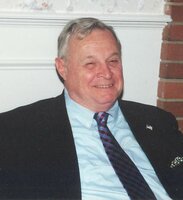 Keith K Morgan
Dr. Keith K. Morgan, age 81, passed away Monday, March 7th, after his brief struggle with cancer. Keith was born on March 29, 1940, to Kenneth Morgan and Ruby Axtell Morgan in Warsaw, NY. He was the eldest of three.
He is survived by his loving wife of 46 years, Mary Meyer Morgan, his two sons, Justin and Jon, and his four grandchildren that he adored. He is preceded by his brother Ronald Morgan, sister, Mona Morgan, and former spouse Gail Kurpita Morgan.
Keith served his country in his early years in the U.S. Air Force Security Services working in signal intelligence in locations ranging from Ascension Island to Trabzon Turkey. He later worked in Telecommunications management and development, for over thirty years. Keith dedicated his life to learning and education having received his doctorate from Steven's Institute of Technology after retirement, and he continued to teach for many years after, at Stevens and Berkeley College.
He was proud of his sons and always loved a good argument or challenge. His grandchildren described him as an amazing grandfather. Everyone who ever met Keith will remember his sense of humor. He will be greatly missed by everyone who knew him.
Friends and relatives may gather with the family for memorial visitation on Friday, March 18th, from 5:00 pm until 7:00 pm at Martin Funeral Home, 1761 Route 31, Clinton NJ 08809. To send condolences to the family please visit www.martinfh.com
In lieu of flowers, the family requests donations to the American Cancer Society.