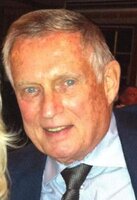 John David "Jack" Harris
John "Jack" Harris, 84, previously of Clinton, New Jersey passed away peacefully on Friday March 18th, 2022 at Saucon Valley Manor in Hellertown, Pennsylvania. Jack was born on February 8th, 1938 in Brooklyn, New York to loving parents Anna and John Harris. Jack graduated from Brooklyn Technical High School in 1956. Following High School Jack enlisted in the United States Army and earned the rank of Specialist 4th class before receiving an honorable discharge. Jack went on to further his education and graduated from Hofstra University in 1972. Jack was also a loving father to his children John, Craig, Caryn, and Adam. Jack worked for Long Lines/AT&T for many years before finally retiring and getting to spend more time with the ones he loved.
Jack was a man who loved to serve his community and considered his role as an active member of the community as an important one. Jack was a past member of the Island Park, New York Fire Company, the Clinton New Jersey First Aid and Rescue Squad, the Annandale New Jersey Hose Company, and had been an Auxiliary Police Officer for the Township of Bedminster, New Jersey. Jack was also a card carrying Life Time member of the NRA.
Jack will be forever missed by his son, John D. Harris Jr. and his wife Michelle, son Craig S. Harris and his wife Jill, daughter Caryn L. Nulf and her husband Billy, son Adam S. Harris and his wife Jori, brother, Vaughn VR Harris and 10 wonderful grandchildren.
Jack is predeceased by his parents John and Anna Harris, Brother Glen Harris, and his sis Barbara Delio.
In lieu of flowers donations in Jack's name may be made to The Fisher House: https://fisherhouse.org/
A memorial service for Jack will be held in the near future.