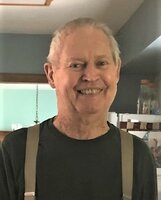 Robert "Bob" Timko
Robert (Bob) Timko, of Clinton, NJ, passed away peacefully at RWJ Somerset Hospital, on April 12, 2022. Born January 15, 1943 in Plainfield, NJ, he was the son of the late Stephen and Julia (Govlick) Timko. He and his wife Pat (Bundschuh) Timko would have celebrated 55 years of marriage this June.
He grew up in South Plainfield and graduated from Montclair University in 1965. He began his teaching career in the Bridgewater Raritan School District in 1965 as a physical education teacher and continued his career there until retirement in 1998. Bob was a well-respected official for varsity soccer, basketball, and baseball for many years. He became active in coaching numerous Community Athletic Sports and also served on the Clinton Public School Board of Education. He was a member of the Bethlehem Presbyterian Church in Pittstown, NJ.
Bob's love of baseball started at an early age. His enthusiasm for sports grew from watching his daughters play in high school and college. He found the greatest joy in watching his grandchildren in their sports.
Bob suffered numerous illnesses but always had a smile and positive outlook on life. He had a fighting spirit and love for his family that gave him the will to live. His grandchildren were his pride and joy. Bob's love of life and positive spirit were infectious to all those around him
He is survived by his loving wife of 55 years, Pat, his two daughters, Beth Stocker and her husband Matt of Plainfield Twp, PA, Karen Ruitenberg and her husband Bob of Hampton Twp, NJ and his 4 grandchildren, Nathan, Madelyn, Samantha, and Caitlyn. Bob is also survived by a brother, in-laws Linda and Ed Rocca, Kay Deussing, and their families.
A memorial service will be held in his honor on May 7, 2022, at 11:00 A.M. at the Bethlehem Presbyterian Church, 2 Race Street, Pittstown , NJ 08867, with a luncheon to follow at the church. In lieu of flowers, donations may be made to the Bethlehem Presyterian Church, 2 Race Street, Pittstown, NJ 08867. To send condolences to the family please visit www.martinfh.com