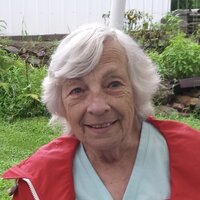 Carol S. Smith
Carol S. Smith (nee Pierce), age 84, of Glen Gardner, NJ, passed away Monday, April 25, 2022, at St. Luke's Hospital Anderson Campus. She was born on February 28, 1938, in Washington, NJ, to late Felix Pierce and the late Caroline (nee Shanosky) Pierce.
Carol was the loving mother of five children: Norman, Charles, Timothy, Jeffrey, and Laura. She was also a very proud grandmother of five grandchildren and 2 great grandchildren. When her children were younger, she volunteered as a member of the Bloomsbury PTA.
Carol worked as a nursing assistant at Hagadorn Hospital located in Glen Gardner. She was known for her compassion towards her patients, whom she often invited for the holidays when they had nowhere else to go. As an animal lover, Carol's compassion was often shown towards the animals she advocated for. Carol had many hobbies that kept her active and busy such as bowling, gardening, crocheting, and canning. Carol was also known for making her own homemade root beer. She will be greatly missed by all those who knew her.
Carol will be forever missed by her children, Norman Smith Jr., Charles Smith, Timothy Smith Sr. of Stewartsville, NJ, Laura Smith of Easton, PA, and Jeffrey Smith and his wife Liliana of Woodbridge, NJ; grandchildren, Kristen, Tim Jr., Sariah, Daniel, and Jason; great grandchildren, Deliah and Leona.
Also surviving is her loving companion James Ovady of 20 plus years.
Carol is predeceased by her sister, Eleanor Behney.
Gathering of family and friends will be held on Friday, April 29th from 5:00 PM until 8:00 PM, at Martin Funeral Home, 1761 Route 31, Clinton, NJ 08809. A service of remembrance will be held on Saturday, April 30th at 11:00 am at the funeral home. Interment will follow at St. Ann's Cemetery in Hampton, NJ. To share memories with the family please visit www.martinfh.com
If you wish to make a donation in Carol's name, please consider
National Wildlife Federation, 800 332-4949 Please Click Here to Donate or Alzheimers Association, 800 272-3900 Please Click Here to Donate