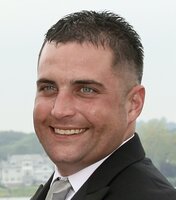 Michael Andrew Cuccio
Michael Andrew Cuccio, age 44, passed away Sunday, June 5, 2022 at his home in Bayville NJ. Born on June 22, 1977, in Teaneck, NJ, he was the son of Salvatore Frank Cuccio and the late Carol Ann Altamura.
Mike graduated from North Hunterdon High School, and worked for over 20 years for Michael J. Wright Construction in Tom's River, NJ.
All that knew Mike loved him for his kindness and selflessness. Family, friends, and his dog/companion Bella were everything to him and he prided himself on that. His eyes and smile lit up every room he walked into. Mike's life would seem too short to many, but those of us that were touched by him are blessed to have shared life long memories. To say we lost our Angel, is an understatement. He's so loved and missed beyond measure…
Mike loved being around the water, and living down the shore brought him great happiness, especially when surrounded by his family and friends. He thoroughly enjoyed September because it was what he called "locals summer". Mike was also an avid sports fan supporting the NY Jets, NY Mets, NJ Devils, and Notre Dame.
Michael is survived by his Father, Salvatore Cuccio; Stepfather Arthur Altamura, Sister Christina Santos and her husband Sergio; Brother, Daniel Cuccio and his wife Natalia; Aunts and Uncles, Marianne and Michael Wright and Susan and Robert Samela; Nephews, Jordan, Cameron and Lucas; and numerous other family members.
His is preceded in death and reunited with his beloved Mother, Carol Ann Altamura, his brother Anthony Cuccio, and maternal grandparents Lenore and Vito Samela; paternal grandparents, Vera and Salvatore Cuccio.
Memorial visitation will be held on Sunday, June 12th, from 1:00 pm until 4:00 pm at Martin Funeral Home, 1761 Route 31, Clinton, NJ 08809. Words of remembrance will be offered at 3:30 pm during the visitation. Entombment will be held privately by the family at Immaculate Conception Mausoleum, Annandale, NJ. To offer condolences to the family, please visit www.martinfh.com. If anyone wishes to make a donation in Mike's memory, please consider "One Step Closer Animal Rescue (O.S.C.A.R.)" http://www.oscaranimalrescue.org.