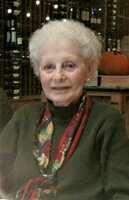 Julia Virginia Warshany
Julia Virginia Celentano Warshany, age 93, travelled to her next journey in the early morning hours of July 3, 2022 on her parent's wedding anniversary, to reunite with her loving husband Stephen in heaven.
She was the daughter of William and Virginia Celentano and was born and raised in South Plainfield, New Jersey with her four brothers. Encouraged by her father to pursue a college education to earn a living, it was at Union College where she met the love of her life and future husband. Steve and Julie were married on June 17, 1950. They were happily married for 57 wonderful years.
In addition to raising her family, she was a beloved and dedicated elementary teacher at Sacred Heart School in South Plainfield. A proponent of literacy, she always encouraged parents to read to their children, as their children would then learn to read. She continued her education while raising her family to proudly earn her bachelor's degree in Elementary Education from Newark State College in 1973. She was an accomplished seamstress, loved to dabble in the kitchen, always the conversationalist (with anyone she met!), and had her own unique style and way of life.
Julie and Steve loved to travel – Italy, Washington DC and Disney World were their favorite go-to spots. Never wasteful in any aspect of her life, no task was too small for Julie to conserve and recycle wherever she could.
She was a devout Catholic, and her circle of life was truly her family and cherished extended family. For those outside her family, she charmed everyone she met until her final day. She was truly one-of-a-kind, known for her spunky and vibrant personality, proud, determined, creative, resourceful, and fiercely independent. She lived life to the fullest and was a steadfast anchor in our family.
To carry on her legacy is her son Stephen and daughter-in-law MaryAnn, daughters Susan and Jill, grandchildren, Nickolas, Alexa, Angela, Danielle, Dylan and great grandchildren Sophia-Julia and Kaylee. Her legacy will also live on in her beloved nieces, nephews, cousins and their families.
She will be greatly missed by all.
All services have been held privately by her family.
In memory of Julia, donations can be made to the Flemington Area Food Pantry(https://flemingtonfoodpantry.org/) and Meals on Wheels in Hunterdon(https://mowih.org/donate).