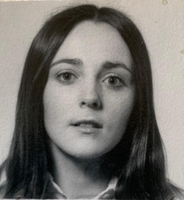 Kathleen Heekin Pubylski
Kathleen Heekin Pubylski, age 73 of Clinton, NJ, passed away Sunday, July 10, 2022. Born on May 7, 1949 in Ballykinlar County Down, Ireland, she was the daughter of the late Patrick Francis Heekin and the late Margaret Ellen (nee Gallagher) Heekin.

Kathleen was raised in Lisburn, Ireland up until the age of 18, when she moved to the United States. On August 11, 1973, Kathleen married the love of her life, William Pubylski. They lived in Fair Haven, NJ for forty-five years, where they raised their three beloved daughters, Adrienne, Whitney, and Victoria. In 2019, Kathleen and Bill moved to Clinton, NJ to be closer to their grandchildren.

Kathleen worked as an administrative assistant and accounting representative at Bell Labs, then Lucent, and finally Opnext until she retired in 2012. She most enjoyed traveling the globe in support of these organizations.

Kathleen was an avid and voracious reader as well as a life-long learner. Along with reading and learning, Kathleen enjoyed traveling, art and fashion (especially shoes). She had an infectious laugh, and she was incredibly thoughtful and generous. She also had a love for country line dancing. Above all, Kathleen enjoyed spending time with her precious family, especially her two grandsons; Henry and William. She was incredibly proud of the accomplishments of her children.

Kathleen will be forever missed by her loving husband, William Pubylski; daughters, Adrienne Pubylski of Cedar Park, TX, Whitney Pubylski-Yanofchick and her husband Todd of Pittstown, NJ, Victoria Pubylski of Leander, TX; grandsons, Henry Ellis Yanofchick and William Raymond Yanofchick; sisters, Bernadette Garkowski and her husband Johnny, Mary Pubylski and her husband Joe, Eileen Greenhough, and Jane Heekin.

Kathleen is predeceased by her brothers, John, Patrick, William Joseph; and sister, Christine.

Friends and relatives may visit with the family on Friday, July 15, 2022, from 4:00 pm until 7:00 pm at the Martin Funeral Home, located at 1761 Rt. 31, Clinton, NJ 08809. Cremation will be held privately.
In lieu of flowers, donations in Kathleen's name may be made through, IN MEMORY OF, Rutgers Center for Adult Autism Services, Please Click Here to Donate