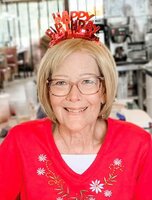 Elizabeth Ann "Betty Ann" Dhein
Elizabeth Ann "Betty Ann" Dhein (nee Saxon), 72, of High Bridge, New Jersey passed away peacefully at her home surrounded by her loving family on July 26th, 2022. Betty Ann was born on June 28th, 1950 in Newark, New Jersey to the late Ruth and Robert Saxon.
Betty Ann graduated from Middlesex High School in 1968, went on to earn her Bachelor's degree from Newark State College in 1972, and a Master's of Education from East Stroudsburg University in 1987. She continued her graduate work and completed her "Plus Thirty".
On August 15th, 1970 Betty Ann married her beloved husband, Steve Dhein. Together Betty Ann and Steve raised two children, daughter Dayna and son Scott who they adore. Betty Ann spent her career as a second grade teacher for over 30 years before retiring from Tewksbury Township Elementary School in 2008.
Betty Ann has been awarded the prestigious title of "Teacher of the Year" as well as Excellent Teachers Awards and a certificate of excellence as a volunteer from Hunterdon Healthcare. She also had been presented with the Therapy Dogs International "Tail Waggin' Tutor" Award. Betty Ann had a passion for quilting and had finished 127 different projects during her life. She enjoyed traveling, exercise, music, sewing costumes for any occasion, writing silly spoof songs, and many long nights playing Bridge and other card games. Throughout her life Betty Ann had many accomplishments but none of those could match the pride and joy that she experienced by being a loving wife and mother.
Betty Ann was an active member in the New Jersey Education Association, Therapy Dogs International, and Clinton Presbyterian Church. Betty Ann was a Deacon at the church and was strong in her faith. She shared her faith with others by volunteering as the children's choir director, with her son she was the Sunday School song leader. She was a vacation bible school leader, a member of the bell and praise choirs, and a flutist for the church. She also volunteered at the Open Cupboard Food Pantry in Clinton and the Mission at the Eastward in Starks, ME.
Betty Ann is survived by her beloved husband of 51 years Steve Dhein, daughter, Dayna Craig (Jeffrey Craig), son Scott Dhein, sister Joan Saxon Mylroie (John Mylroie), and grandsons Connor, Brody, and A.J. Craig.
Betty Ann is predeceased by her mother Ruth Knudsen Saxon, father Robert H. Saxon, and her sister Barbara Lynn Saile.
In lieu of flowers donations can be made to Hunterdon Hospice, Click Here to Donate for Hospice or to the Open Cupboard Food Pantry of Clinton, Please Click Here to Donate to the Open Cupboard.
A Celebration of Life service for Betty Ann will be held on September 21st, 2022 at 10:30am at the Clinton Presbyterian Church located at 91 Center Street Clinton, New Jersey 08809. A luncheon will follow at the Oldwick Manor. Those who wish to view the services via live stream, Please Click for Live Streaming