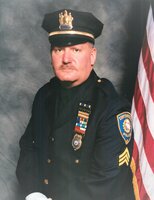 Peter E. Burgess, Jr.
On Saturday, July 30, 2022, retired police sergeant, Peter E. Burgess Jr., loving and loyal husband to Nancy of 37 years and father to sons, Christopher and his wife Kelley and Daniel and his wife Ladelyn, unexpectedly passed at age 61. He leaves behind his mother, Marilynn Burgess of Tuckerton, NJ, his two sisters, Lori LaPorta of Piscataway, NJ and her late husband Richard, Claire Schweiger of Toms River, NJ and her husband Karl, as well as several nieces and nephews. Pop Pop also leaves behind his two cherished grandchildren, Jacob and Madison. He was pre-deceased by his father Peter E. Burgess Sr.
Peter was born and raised in Irvington, New Jersey on January 29, 1961, before marrying and settling down in Clinton, New Jersey. At the age of 21, he began his career with the Irvington Township Police Department. During his 28-years with the department, he served on many initiatives such as Plain Clothes Office Street Crimes and Tactics Unit, Street Crime Alleviation Team (SCAT), Senior Field Supervisor for the Essex-Union Auto Theft Task Force and Narcotics Enforcement Team Supervisor. After retiring, he continued serving in law enforcement by contracting with the Essex County Police Academy, where he oversaw the physical and fire-arms training for numerous jurisdictions, consisting of over 200-officer personnel each.
Peter enjoyed spending time with his grandchildren and family in the waters on his boat down in Toms River on the Barnegat Bay.
Peter's life will be celebrated on Friday, August 5th from 4:00 pm until 8:00 pm, with words of remembrance at 7:30pm at the Martin Funeral Home, 1761 State Route 31, Clinton, New Jersey 08809. Procession to the crematory will commence, on Saturday, August 6, 2022 at 10:00am from Martin Funeral Home ending at Somerset Hills Memorial Park in Basking Ridge, NJ.
In lieu of flowers, kindly make donations in Peter's memory to the St. Jude Children's Research Hospital, Please Click Here to Donate