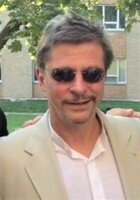 Michael L. Cedro
Michael L. Cedro, 68, of Annandale, New Jersey passed away peacefully surrounded by his family at his home on August 2nd, 2022. Michael was born on October 6th, 1953 in Somerville, New Jersey to the late Elaine and Rudolph Cedro. Michael was raised in Piscataway, New Jersey and graduated from Piscataway High School in 1973. Michael went on to earn his Bachelors Degree from Ramapo College. Following college Michael worked as a senior scientist for Johnson and Johnson for two years, before purchasing Riverside Wine and Liquor, which he has owned for the past 36 years. In 2022 Michael married the love of his life Eileen Cedro.
Michael was a man strong in his Catholic faith and was a parishioner at St. Joseph's Catholic Church in High Bridge, New Jersey. Michael was blessed to be able to pursue his passions throughout his life mainly his love for food and wine. Michael was a wine connoisseur and traveled frequently to many wineries and vineyards to taste and experience the finest wines. To pair with his passion for wine was his passion for cooking and sharing meals with family and friends whom he loved. Michael also hosted a wine group every Thursday night and got to share his knowledge and experience with many others. Living most of his life in Hunterdon County Michael loved nature and gardening and truly cherished all animals including his dog, Dolce and cat, Jack.
Michael will be forever missed by his beloved wife Eileen Cedro, adopted daughter Sarah and step-daughter Morgan, sister Jan Coyle of New Mexico, brother Rudy Cedro and his wife Donna of New Jersey, brother Paul Cedro and his wife Karen of New Jersey, sister Lisa Moon and her husband Marty of Florida, Eileen's children Candis, Joe, and Mary, 3 grandchildren and many nieces and nephews.
Michael is predeceased by his parents Rudolph and Elaine Cedro, and by his children Lauren, Ryan and Michael Cedro.
In lieu of flowers donations in Michael's memory can be made to the Lustgarten Foundation for pancreatic cancer research at www.lustgarten.org
Family and friends are welcomed to gather on Thursday August 4th, 2022 from 10:00 am until 11:30 am with a prayer service and reflections starting at 11:30 am, at his home located at 312 Hamden Road, Annandale, New Jersey 08801. Following the service family and friends are invited to gather for a time of fellowship and a light luncheon on the grounds of his home. Cremation will follow all services privately. Arrangements are under the care of Martin Funeral Home, 1761 Route 31, Clinton, NJ 08809. To send condolences to the family please visit www.martinfh.com
Michael would have prefered that everyone come in casual attire.