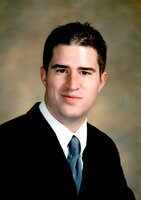 Matthew Stephen Ferry
Matthew Stephen Ferry, of Scotch Plains, NJ, passed away suddenly on August 28, 2022. He was born in Flemington, NJ on August 28, 1985, and was the beloved son of Lorraine Ferry of High Bridge, NJ and the late Stephen Ferry, and the adored brother of Sean and Daniel.
Matt was a graduate of Voorhees High School and received a degree in Radio & Television Communications from Rowan University. After graduation, employment with the Work Family Connection as an after-school counselor followed by a position as a teacher's aide at Alexandria Township Elementary school led Matt to realize he enjoyed mentoring children, and he went on to receive a degree in Elementary Education from Rider University.
Matt worked as an elementary school teacher for Summit Public Schools and most recently as a third-grade teacher at Metuchen Christian Academy. He was the kind of teacher who showed interest in his students both inside and outside the classroom, and he often was invited to and attended his students' sporting events outside of school, which garnered favor not only with the students, but with their parents as well. In addition to teaching, Matt was a respected sports coach for many recreation-league programs and for Freshman Basketball at Summit Public Schools.
Outside of school and coaching, Matt was also passionate about music, travel, fishing, and his Cleveland sports teams.
Matt was a drummer and was a member of the jazz band in middle school and later played in the band Dirty Electric with his friends Will and Keith. Matt had an extensive and eclectic digital music library (including Christmas songs), and he enjoyed providing the playlist at family events.
Trips to the Caribbean with his friends Jaden and Nick as guests of Jaden's family and with his mom & dad and brothers to Antigua while in high school sparked Matt's travel bug. He enjoyed visiting his cousin David and his friends Jaden and Kevin in California, and Matt also traveled abroad on his own to the Netherlands, Belgium, France, England, South Africa and Ecuador, and had wanted to visit all the continents. Most recently this summer he traveled with his cousin and brother to attend baseball games in Washington, DC and Baltimore, bringing his count of major league baseball parks visited to eleven.
In addition to his mother and brothers, Matt was dearly loved and will be deeply missed by his aunts Jeannette Smith (Barry), Joyce Kleen (Jerry Smith), Blair Hysong, and Bridget Tomlinson (Roy) and uncles Fred Kleen (Virginia DeLalla), Greg Kleen (Susanne), Michael Ferry (Jean), and John Ferry, by his first cousins Tim Kleen, John Hysong, David Tomlinson and Michael Tomlinson, by Mary and Evelyn Ebauer, by all his Flynn family and Ferry family cousins and by many close friends.
A memorial service will be held on Sunday, September 18 from 12:00PM to 2:30PM at Martin Funeral Home, 1761 Route 31, Clinton, New Jersey, followed by a prayer service at 2:30PM. To send condolences to the familu please visit, www.martinfh.com
In lieu of flowers, memorial donations may be made to High Bridge Youth Basketball, P.O. Box 268, High Bridge, NJ 08829, where Matt played as a child and later volunteered as a coach.