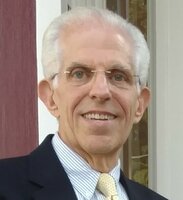 Michael Francis Yates
Michael Francis Yates, age 76, of Glen Gardner, NJ, passed away Monday, September 26, 2022, at Morristown Medical Center, in Morristown, NJ. Michael was born on February 9, 1946, in New York, NY, to the late John B. Yates and the late Jane (née Gretz) Yates.
Michael graduated from Xavier High School and then went on to further his education at the University of Buffalo, graduating in 1967. Michael married the love of his life, Christine, in January of that year. They raised a beautiful family together, having two children he cherished, Erik and Alison.
Michael enjoyed being a contributing member of his community. As the PTA President of the Lincoln School in Pompton Lakes, NJ, he organized and supervised the construction of a large-scale playground project. He was actively engaged in Bethlehem Township politics as head of the Bethlehem Township Republican Club, and member of the Bethlehem Township Republican Committee in District One. He was also a member of the Bethlehem Township Planning Board.
As a proponent of education, he volunteered his time as a member of the Hunterdon Polytech Career Academy for many years. He earned honorary membership in the Hunterdon County Polytech Central Campus Chapter of the National Technical Honor Society. Michael was also an active leader in the National Federation of Independent Business (NFIB).
He successfully started Michael F. Yates & Co., Inc. in 1996. A management consulting firm, his business is based in Washington, NJ, where he supported and worked as a member of the Washington Business Improvement District. His company extended its international reach when he founded Global Association Pension Services (GAPS) to bring together human resource management executives from across Europe. An active aviator since 1974, he earned his FAA Commercial Pilot Certificate in 1991 and used his aircraft to visit clients.
Continuing his legacy of giving back to the community, Michael also volunteered his time as a Lector and Eucharistic minister at St. Ann's Church located in Hampton, NJ. He was also a member of the Aircraft Owners and Pilots Association (AOPA) and a lifetime member of the National Rifle Association (NRA).
During his free time, Michael enjoyed flying his airplane, building model railroads, learning about classic cars, and traveling. Most of all, he loved spending time with his family and friends, especially his granddaughters, Piper, Riley, and Nina.
Michael will be forever missed by his beloved wife, Christine M. Yates; son, Erik M. Yates and his wife Kristin S. Yates; daughter, Alison Yates Harris and her husband John Maynard Harris; granddaughters, Piper Yates, Riley Yates, and Nina Harris; and his five siblings.
Michael is predeceased by his parents, John and Jane (née Gretz) Yates, and his brother, Christopher J. Yates.
A Mass of Christian Burial will be offered on Friday, September 30, 2022, at 11:00 a.m., at the Church of Saint Ann, located at 6 Church Street, Hampton, NJ 08827. Interment will take place immediately following the Mass in the church cemetery. Funeral arrangements are under the care of Martin Funeral Home, 1761 State Route 31, Clinton, NJ 08809. Please leave a condolence, light a candle, or share your favorite memory of Michael here: www.martinfh.com.
All services will be held directly at The Church of Saint Ann, Hampton NJ.
In lieu of flowers, donations may be made to The Church of Saint Ann, 32 Main Street, P.O. Box 405, Hampton, NJ 08827.