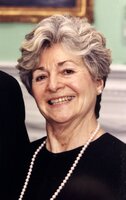 Vilma Virginia Filipiak
Vilma Virginia Filipiak, passed away Thursday, October 6th, at the age of 92, surrounded by love in the comfort of her son and daughter - in -law's home in Flemington, NJ.
Vilma, the middle child of Julius Vislosky and Julia Santa, was born and raised in Pittsburgh, PA, on September 11, 1930. It was in Steel City where she met the love of her life, Stanley Filipiak. Vilma and Stan belonged together, and their love story lasted for more than 50 years.They relished family traditions, in particular celebrating Christmas and spending summer vacations in Kennebunkport, Maine.
Vilma had a passion for gardening, as did her son Michael, and together they tended a garden that consisted of over 150 rose bushes. It was in this paradise where the revered Garden Parties were held.
Vilma delighted in antiquing with her son, Joey and his wife, Cheryl, whether it be in Southern Maine during Christmas Prelude or in favorite haunts in Delaware and Maryland.
However, Vilma's greatest joy was family: (son)Michael Filipiak and (daughter-in- law) Raina Filipiak, (son) Joey Filipiak and (daughter- in-law) Cheryl Filipiak, (deceased daughter) Julie Berntsen and (son-in-law) Glenn Berntsen. Vilma's legacy continues with her grandchildren, Ashley Filipiak, Rachel Berntsen, Tyler Berntsen, Alexandra Berntsen and Aram Filipiak, as well as her four great grandchildren. Vilma survived her sister, Arlene Sebastian and her brother Dr. Robert Vislosky.
Vilma had outstanding class and grace, even in her death. She faced many medical challenges over the years and loss of dear ones, but never once did she quit, she was resilient.
Family and friends are invited to honor Vilma's life, Tuesday, October 11, from 8:30 AM until 9:30 AM, at Martin Funeral Home, 1761 Route 31, Clinton, NJ 08809. Mass of Christian Burial will be offered10:00 AM, at Immaculate Conception Roman Catholic Church, 316 Old Allerton Rd., Annandale, NJ. Sharing memories, and toasting to a life well-lived will take place at The Clinton House, 2 Main St., Clinton, NJ, noon-2:00 PM.
In lieu of flowers donations can be made to: Meals On Wheels in Hunterdon, Inc., 5 Walter E. Foran Boulevard, Suite 2006, Flemington, NJ, 08822 and The Flemington Area Food Pantry, PO Box 783, Flemington, NJ, 08822.