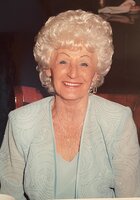 Joan K. Orr
Joan K. Orr, 92, of Lebanon Township, passed away on Saturday, November 19, 2022, at her home. She was born on November 25, 1929, and was the daughter of the late Jacob Burd and the late Ruth (née Bowlby) Burd.
Joan and her late husband of 45 years, Ben Orr, owned and operated Ben Orr Contacting for many years. Joan also worked in the cafeteria of North Hunterdon High School.
Joan is survived by her 2 sons, Michael Parichuk and his wife Janice and Dale Parichuk and his wife Gloria. Also surviving are 12 grandchildren, 29 great grandchildren and 22 great great grandchildren.
Joan was predeceased by her son John Parichuk, her husband Ben Orr and sisters, Jane Smith, Becky Lomerson, Joyce Lutz and Ruthann Matarazzo.
Family and Friends may gather on Friday, November 25th from 11:00 am until 1:00 pm at the Martin Funeral Home, 1761 Route 31, Clinton NJ 08809. Funeral service will begin at 1:00 pm in the funeral home. Interment will follow at the Musconetcong Valley Cemetery in Hampton. To send condolences to the family please visit www.martinfh.com