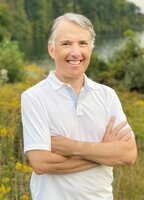 Thomas J. "Tom" Churylo
Tom Churylo, devoted husband, loving father, marathon runner and Bruce Springsteen lover, passed away on Wednesday, January 25, 2023. Tom was born the youngest of four children to Joseph and Mary Churylo in Cherry Hill, NJ on September 29, 1963.
Tom graduated from Rutgers University in 1985 with a degree in Electrical Engineering. Duing his time at Rutgers, he was lovingly embraced by the Turner family who have now grown to be his second chosen family.
Tom married his college sweetheart, Mahy Tawadros, almost 35 years ago, with whom they had two girls; Jessa and Kara. Tom was a devoted husband and proud father. Together, Mahy and Tom built an amazing life in Bloomsbury, NJ with many friends surrounding them locally. Their home was always open to neighbors and friends where Tom would always greet them with his warm smile and quick wit.
Tom, in his late teens, became an avid fan of Bruce Springsteen's music and life. Tom would easily win any trivia contest on Springsteen. He saw the Boss in concert every chance he could and the last tally of concerts Tom attended exceeded well over 100!
He developed a passion for running in high school. He committed himself to running marathons and developed his running skills with the Basecamp running club where he quickly made many friends like he did everywhere he went. Working his way up through many marathons, including the New York City and Philadelphia marathons, he realized his lifelong dream of running the Boston Marathon which he accomplished in 2019.
Tom loved to travel with family as well as golf every chance he got.
Tom is survived by his brother Joseph (Julie) of Medford, NJ, Julie (Greg) of Naples, FL and Mary (Ken), Cape May Courthouse, NJ and nieces, nephews and cousins who all adored him.
Friends and relatives will be greeted on Monday, January 30th, at the Martin Funeral Home, 1761 Route 31, Clinton, NJ 08809 from 9:00 am until 11:00 am with words of remembrance starting at 11:00 am at the funeral home. Inurnment will be held privately by Tom's family at Immaculate Conception Mausoleum, Annandale NJ. To share memories with Tom's family please visit www.martinfh.com
In lieu of flowers, the family asks that you kindly make donations to Memorial Sloan Kettering Cancer Center, in honor of Tom Churylo. Please Click Here to Donate