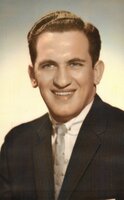 Alfred F. "Fred" Lullo
Alfred "Fred" Frank Lullo, age 90, of Lebanon Township, NJ, passed away Sunday, March 5, 2023, in Flemington, NJ. Born December 30, 1932 in Jersey City NJ, he was the son of the late Giuseppe Lullo and the late Rosina (Gentile) Lullo.
Fred was a 1950 graduate of Dickinson High School. He served in the US Army for two years. He married the love of his life, Rose Marie (Griffin) Lullo, on November 19, 1955. He was a devoted and loving husband for 67 years. Fred worked as a New Jersey Firefighter, becoming Battalion Chief of the Jersey City Fire Department, and retiring with forty-one years of continuous service. He was the recipient of the Captain Archie Carlo Memorial Award presented by the NJFMBA Local #1, in which he was a member. In his downtime, Fred enjoyed fixing things, and taking care of his yard. Most of all, he loved spending time with his beloved wife, Rose Marie.
Fred is survived by his loving wife, Rose Marie (Griffin) Lullo; and many loving nieces and nephews.
Fred is predeceased by his parents, Giuseppe and Rosina Lullo; as well as his nine siblings.
A visitation will be held for family and friends on Wednesday, March 8, 2023 from 2:00pm until 4:00pm and 6:00pm until 8:00pm at Martin Funeral Home, 1761 Rt. 31, Clinton, NJ 08801. A Mass of Christian Burial will be offered on Thursday, March 9, 2023, at The Church St. Ann, 32 Main St., Hampton, NJ 08827. Internment will follow at Holy Name Cemetery, 823 West Side Ave, Jersey City, NJ 07306.
In lieu of flowers, donations in Fred's name may be made to Common Sense Animal Shelter. Please Click Here to Donate