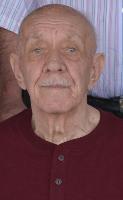 George M. Halko Sr.
George Martin Halko, Sr. of Pattenburg, NJ died Sunday, March 12, 2017, at the age of 88. Born in Slatington Pa., on May 21, 1928, he was a son of the late Joseph and Mary (Bobal) Halko. In addition to his loving wife of 69 years, Betty (Stevenson) Halko, George is survived by his five children Susan Long, George Jr. (Dolly), Joseph (Eileen), Larry, and Kevin, as well as 10 grandchildren and 12 great-grandchildren. He was predeceased by his four siblings: Anna Krause, John, Stephen, Paul, and son-in-law, Steven Long.
George was a veteran of the U.S. Navy, having received an American Area Campaign Medal, World War II Victory Medal, and a Good Conduct Medal. He was a dedicated worker, having completed three long terms of employment as a machinist at Taylor-Wharton and Lipton, and as Chief Engineer at Hunterdon Medical Center, working into his 80's. George was devoted to community service, having served as a Mason for over 50 years (Mansfield Lodge #36), a long-time member of the Hunterdon Hills Lions Club, and a former member of the Pattenburg Volunteer Fire Company. He was generous, humble, and witty. He had a green thumb and loved animals, especially his Jack Russell Terrier, Lucy.
A memorial service will be held on Saturday, March 18, 2017 with memorial visiting starting at 1:00pm and a service starting at 2:00pm all at the Pattenburg United Methodist Church 587 Main Street, Asbury, NJ 08802. Pastor Timothy Espar will officiate. In lieu of flowers, you may choose to support the needs of the family via https://www.gofundme.com/halko-family-fund. Arrangements are under the care of Martin Funeral Home, to share memories with the family or for additional information please visit www.martinfh.com.