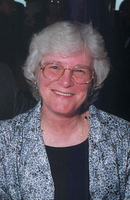 Marianne Welenteychik
Marianne Welenteychik, age 79, of High Bridge, NJ died peacefully Tuesday, August 28, 2018 at home surrounded in love. Marianne was born November 29, 1938 in Bellheim, Germany. She is the daughter of the late Wilheim Louis Christian Waack and the late Maria (Bisson) Behr. Marianne was the devoted and loving wife of Steven Welenteychik.
In her younger years Marianne worked as a beautician and an office manager before successfully raising her six children. She also worked for the Lyons VA Hospital as the Fiscal Accounts Supervisor.
She enjoyed being an EMT and First Aid-Instructor with the Finderne Rescue Squad for many years. Marianne was a member of the German Choral Groups, St. Gregory Church Choir, Hunterdon Flutterwheels Square Dance Group.
Marianne is survived by her devoted and loving husband: Steven Welenteychik , four daughters: Cathy Powel (Mark), Karin Fiscaletti, Nancy Mixon and Linda Hollenbeck (Michael Noah); two sons: Donald Hollenbeck and Kenneth Hollenbeck (Sally); Sister of Walter L. Bisson and Wife Sharon; sister- in- laws: Jane Heater and Sandra Welenteychik; brother- in–laws:
Michael Welenteychik and John Trimmer. Also surviving are her nineteen grandchildren, twelve great-grandchildren and many aunts, uncles and cousins.
She was predeceased by her mother and father, step-father Arthur Behr, brothers Karl-Heinz Waack and Walter J. Waack, sister-in-laws Nina Cavlier and Olga Trimmer
Relatives and friends may gather on Tuesday, September 4, from 6:00 pm until 8:00 pm at the Martin Funeral Home, 1761 Route 31, Clinton, NJ 08809. Funeral mass will be offered at 10:00 am on Wednesday, September 5 at St. Gregory Palamas Orthodox Church, 5 Church Street, Glen Gardner, NJ 08826 with Fr. George officiating. Burial will follow in Evergreen Cemetery, Clinton, NJ.
In lieu of flowers and other spiritual bouquets, donations in honor of Marianne may be made through, IN MEMORY OF for the St. Gregory Palamas Orthodox Church at www.inmemoryof-memorial.org/marianne-welenteychik
For further information or to send condolences to the family please visit www.martinfh.com