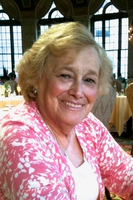 Katherine Milano
Katherine Milano was born on a beautiful Mother's Day, May 8, 1932, to Ida and Frank Dellorto in Orange New Jersey. She was raised in Orange with her four siblings, Fay, Rachelle, Vincent, and Thomas.
After graduating from the Orange school systems, Katherine attended and graduated from Drake Business School. She pursued a banking career at the National Newark & Essex Bank in Orange, NJ. On February 14, 1954, Katherine married Anthony Milano in which they celebrated more than 64 years together.
Katherine raised her children, Neil and Carole, in Livingston, NJ. Summers were always spent at the Jersey shore in their Avalon home, which were filled with family, fun and peace that only a seaside community can offer. It was really special when the grandchildren would visit so that another generation could be introduced to the family shore traditions. Katherine and Anthony also lived in Lebanon, NJ and Palm Beach Gardens, Florida in their retirement years. Katherine enjoyed traveling through the United States, Europe, and Disney World with the grandchildren, but her trips to Italy always held a special place in her heart.
Katherine is survived by her husband Anthony, her two children Neil Milano and his wife Eileen, Carole Frey and her husband Randy, and three grandchildren Kyle Frey, Brett Frey, and Ryan Milano. She was the center and light of our lives and will be missed beyond words.