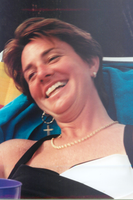 Sharon K McCudden
Sharon Kathleen McCudden of Bloomsbury, NJ passed away peacefully on Friday, December 28th, 2018 surrounded by her family. She was born in Denville, NJ, on May 9th, 1957, to Francis and Clarissa McCudden.
Sharon attended Morris Catholic High School in Denville, NJ, and Montclair State University in Montclair, NJ. While in high school, Sharon was quite the athlete, being a member of the team that put the Morris Catholic women's basketball program on the map, as well as breaking school records in multiple track and field events and winning several events at the state level. She worked as a director of project management in the healthcare industry, and was a driven professional, a dedicated animal advocate, and an avid sports fan.
Sharon spent the last 20 years with the love of her life, Jo Ann Gallo. They married in December of 2013.
When Sharon was diagnosed with pancreatic cancer in 2017, she remained a brave and courageous soul. She faced down incredible adversity with dignity and determination. By every definition of the word, Sharon is our hero.
Sharon is predeceased by her parents Francis and Clarissa McCudden and her brother, Frank McCudden. She is survived by her beloved spouse Jo Ann Gallo; sisters Clarissa Darr, Maureen Peter, Mary Lou Knauss, and Colleen Quinnell; six loving nieces and nephews and their families; and her beloved pets Gia, Brady, and Ryan.
Her memorial service will be held at Martin Funeral Home, 1761 Route 31, Clinton, NJ 08809 on Saturday, January 5th, 2018 between the hours of 2:00 PM and 5:00 PM. In lieu of flowers, memorial donations may be made to OutcastRescue.com
Sharon's family would like to thank the members of Hunterdon Medical Center team, Annandale Family Practice, the Hunterdon Palliative Care team, and the Hunterdon Hospice Care team for all of the care, guidance, and kindness they offered the family during this difficult time.