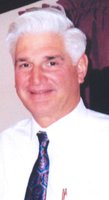 J. Robert "Bob" Boyer
J. Robert "Bob" Boyer, our beloved husband, father, grandfather, brother and friend left this world too soon on Jan 3, 2019.
Born on Feb 13, 1945, to A. Ruth Kuhl Boyer and Robert C. Boyer, Bob was raised in Westfield NJ and attended Westfield High School. During his childhood, Bob was known for his ability to repair anything mechanical and even ran a repair shop in his parent's backyard shed. He also fell in love with aviation during his young years and earned his Private Pilot's License. Bob's mechanical talents and love of flying aided him during his time in the US Army in the course of the Vietnam conflict from 1967-1968. He would often regale his family with stories of working on his Sergeant's vehicle, repairing communications systems across Europe, and flying in theater.
Most of Bob's professional career was spent in the fire safety field with Edwards Systems Technology. He held many positions within the company, ultimately serving as the Director of Industry Affairs. Additionally, he served on national boards including: Automatic Fire Alarm Association, and National Electrical Manufacturers Association.
Bob was a devoted and beloved member of the Musconetcong Valley Presbyterian Church for many years. There was little that Bob was not involved in at the church, but a few of his roles over the years included serving on session, MVPC Cemetery President, and church elder for 30+ years. In addition to his work with the church Bob was also active with the Newton Presbytery, where he served on Council, culminating as Moderator.
In his spare time, Bob fueled his love of aviation and antique aircraft by taking trips in planes with his family or tinkering with any one of four favorite planes at his home, neighboring Alexandria Airport in Hunterdon County, NJ. On most weekends, Bob could be found sitting in front of his hanger surrounded by friends sharing aviation stories and watching planes take off and land. Bob also enjoyed relaxing and boating with his family around Lake Bomoseen in Vermont.
Bob is survived by his wife of 40 years, Laura Davis Boyer; his loving children, Elizabeth Boyer McCauley and husband David, Stephanie Boyer and fiancé Christopher Skorenki; his granddaughter, Charlotte McCauley; his sister, Lois Swanson and numerous dear and devoted friends whose lives were enriched by Bob's presence.
A celebration of Bob's life was held on Saturday, January 5, 2019 at 11:30 at the Martin Funeral Home in Clinton, NJ. (1761 Route 31, Clinton, NJ 08809). For further information or to share memories with the family please visit www.martinfh.com
In lieu of flowers, memorial contributions may be made in Bob's name through IN MEMORY OF for the Musconetcong Valley Presbyterian Church, at https://inmemof.org/j-robert-bob-boyer