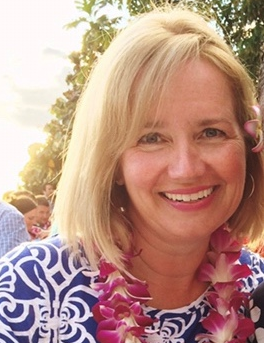 Obituary of Lisa Lamperti Mims
Lisa Lamperti Mims was born on November 16, to Richard Stewart Lamperti and Eleanor (Keenan) Lamperti in Plainfield, New Jersey. She passed away peacefully surrounded by family and much love on Sunday, February 3, 2019. She is survived by her husband Roderick Mims Jr. who she was happily married to for 26 years, and two daughters: Alexis Mims and Samantha Mims of Flemington, New Jersey. Lisa was a member of the Tri Delta sorority, a graduate of Farleigh Dickinson University and worked in sales for GE Lighting.
After having children, Lisa thoroughly enjoyed her time as a fulltime mother. She had a tremendous passion for life and brought an unparalleled level of enthusiasm and commitment to every project and initiative she participated in. She was heavily involved in her community, and actively fundraised at her children's school, drove for Meals on Wheels for 10 years, a Girl Scout Troop Leader and coached cheerleading on the weekends. She loved vacationing to the New Jersey Shore and found beauty in all things wherever she went. Lisa enjoyed gardening, birdwatching, and was an animal lover. She was an avid learner – teaching herself how to needlepoint, knit and rug hook to name a few. Lisa loved playing in her tennis leagues; enjoyed the competition but above all, she loved the wonderful friendships she formed with her teammates.
A mass of Christian burial will be offered at 11:00 am on Wednesday February 6, 2019 at Immaculate Conception Church, 316 Old Allerton Road, Annandale NJ 08801. Interment will be held privately by her family at the Hillside Cemetery in Scotch Plains NJ. Arrangements are under the care of Martin Funeral Home, Clinton NJ. For further information or to share memories with the family please visit www.martinfh.com
In lieu of flowers, the family requests donations be made to Fred's Team – a charity that directly supports Cancer research at Memorial Sloan Kettering. Her family will be running with Fred's Team in the United Airlines NYC Half Marathon in March as a tribute. Donations may be made through IN MEMORY OF at https://inmemof.org/lisa-lamperti-mims