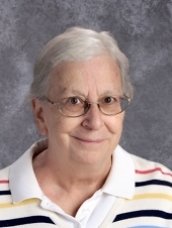 Obituary of Judy-Ann Rosa
Judy-Ann Rosa, beloved resident of Chatham, passed away on June 26, 2019, surrounded by numerous family and friends. Judy was an awesome example of what it means to be daughter, teacher, co-worker, and most of all, friend. Born in Summit, NJ, on October 12, 1952, Judy and her parents, warm, witty Dot Engel (1924-2018) and gentle, loving Rocco (1921-2014), moved to Chatham in 1955, creating a warm and welcoming home where guests always felt part of their loving family. Except for four years at Bayley-Ellard High School, two years at St. Joseph's College, and two years at Frostburg State, Judy spent her school career at St. Patrick School in Chatham, first as student from 1957-1966, then as teacher from 1974-2019.
"Miss Rosa" epitomized what it means to be "teacher"! Countless stories continue to be shared of her unique and engaging teaching style, and there are even more accounts of the warmth, compassion, humor, and devotion each student, parent, and coworker felt in her presence. Even though humility caused her to downplay the academic awards, accolades, and sincere praise that came her way (and there have been many!), Judy was quick to acknowledge those who assisted her….whether it was a student, fellow teacher, parent, or friend. Judy deeply cherished her role in the St. Pats community. She loved and was loved in the superlative degree! As great as her love for the St. Pats community was, Judy's devotion to family and friends was even greater! As many college graduates do, she had moved back home to save money. After several years, the Rosa trio realized they had established a good living situation and Judy chose to remain with her parents.
In their later years, Dot and Rocco relied greatly on Judy's support --- which she so very lovingly gave them. Poignantly, Dot and Rocco each died in Judy's arms….hers was the last voice each of them heard. What a reunion they must be celebrating now! Aunts, uncles, and, especially her "Angelo cousins" JoAnn, Kevin, Ruby, Steven, Tony, and Darren, and "Engel cousins" Walt, Lynn, Danny, Jen, Jessica, and Ted were dear to Judy and often reveled in her company, sought her advice, and held her in great esteem. A friend of Judy's recently observed, "So many people consider Judy their best friend, so I would say Judy defines 'best friend'!" If you were blest to be Judy's friend, you experienced undying loyalty, total trust, and unending support and affirmation. So, yes, Judy was the best friend a person could have.
Usually an obituary lists those who survive the deceased. Judy's list would be too long to enumerate because she is survived by a throng of admirers and a bevy of adoring friends! She had an unbelievable gift of making each person who met her feel an immediate connection as if you were a life-long friend, whether you knew her for a few hours or a lifetime; whether you experienced an occasional meeting or shared a deep friendship. If each of us who knew Judy made an effort to emulate that gift of heartfelt connection, we would start the next great human revolution---what a wonderful tribute to "Miss Rosa, the Social Studies teacher" and "Judy, the best friend!" Teacher, par excellence! By example, Judy taught us how to accept each person, "warts and all"; how to love unconditionally; how to "be Jesus" in each circumstance life throws one's way. Her wit and wisdom will live long after her way too short life!
The best tribute or memorial each of us could give in Judy's memory is to commit to a life of goodness and acceptance of the people who cross our paths. Should you feel compelled to do more, please contribute to the Judy Rosa Memorial Fund at St. Patrick School, 45 Chatham Street, Chatham, NJ, 07928, where Judy's love of St. Pats will continue to be felt. Family, friends, fellow parishioners, faculty, staff, and students of St. Patrick School are invited to give thanks to God for the life of our greatly loved Judy Rosa at a funeral Mass on October 12 (yes, her birthday!) at 11:00am at her family parish, St. Patrick Church, Chatham.
Mass of Christian Burial
11:00 am
Saturday, October 12, 2019
St. Patrick Church
85 Washington Avenue
Chatham, New Jersey, United States
Share Your Memory of
Judy-Ann
1761 State Route 31
Clinton, NJ 08809
Phone: (908) 735-7180
Christopher Knoll - Manager, NJ License Number: 4460
Martin Funeral Home proudly serves Clinton NJ and the following surrounding communities of: Clinton Twp, Annandale, Lebanon, Lebanon Twp, Glen Gardner, Tewksbury, Flemington,
Raritan Twp, Readington, Alexandria Twp, Pittstown, Delaware Twp, Asbury and Hampton New Jersey