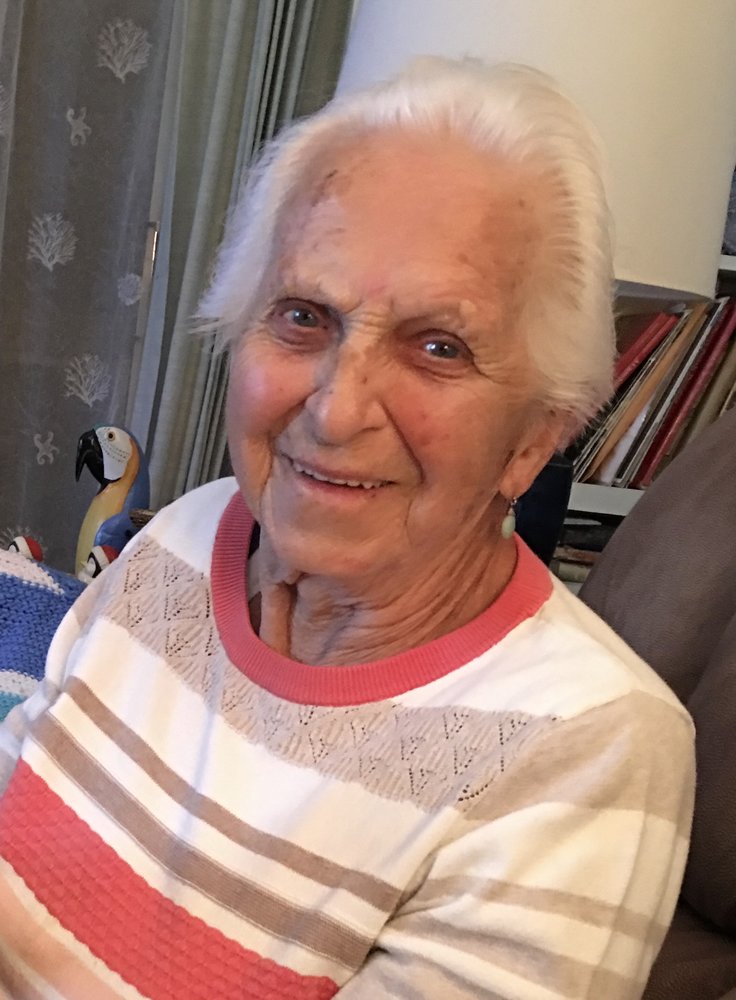 Obituary of Eleanor Agnes Hahola
Eleanor Agnes Hahola, age 92, of Pittstown, NJ died Monday, March 30, 2020 at Riverview Medical Center in Red Bank, NJ. Eleanor was born July 23, 1927 in Pittstown, NJ. She is the daughter of the late Frank and the late Mary (Dzibela) Hodulik. She was predeceased by her beloved husband, Frank Joseph Hahola on July 30, 1996.
A graduate of Flemington High School Class of 1946. Eleanor was a self-employed bus driver who had a thirty-five year career of driving incident free that is three generations of students. She was also a homemaker for her family and a farmer. Alexandria Middle School, Library and Media Center was named in her honor.
Eleanor was a Lifetime member of the Quakertown Fire Co. Ladies Auxiliary and a member of Our Lady of Victories Catholic Church in Baptistown, NJ. She enjoyed weaving, gardening, woodwork, crocheting and an avid Philadelphia Phillies and 76ers fan.
She is survived by her two beloved daughters: Mary Rosell and Ellen Schaffer, and her cherished son: Frank Hahola Jr.; Grandchildren, Laurenlen Kennedy and Clay Hahola.
Love You to Pieces, Mom.
All services will be held privately do to the virus restrictions, those who wish may visit her gravesite at St. Mary's cemetery on Halsted Street in Clinton after Sunday April 5. A memorial dinner will be planned by the family later in the summer. All arrangements are under the care of Martin Funeral Home, Clinton NJ. Those who wish may send condolences to the family at www.martinfh.com
In lieu of flowers donations in Eleanor's honor may be made through IN MEMORY OF, for the Cancer Center Fund, Hunterdon Medical Center Foundation at http://www.inmemof.org/eleanor-agnes-hahola
Eulogy For My Mom, Eleanor Agnes Hodulik Hahola
By Mary Hahola Rosell, 4/3/2020
My Mother was a very special, very strong and also a very quiet person. She and my Father were my heroes. They gave us, their three children, strong values and lots of love. My Father passed on in 1996. Since then, she has carried on with a quiet independence, dignity and grace that amazes me, because the two were inseparable in life.
She lived her life by example: by carrying on in the hardest of times, by conveying her thoughts without preaching, by treating everyone with grace, not judgment.
She lived her life with a quiet strength. She knew from growing up on a farm that life goes on. When adversity happens, you pull up the bootstraps and you get on with it. When death happened to family, friends or pets, she set a very quiet example to grieve for those she loved but carried on with life.
She lived her life to provide opportunities for her children. We all went to college and had good careers, of which she was most proud. They didn't have much but instilled in us the values of hard work, integrity, conservation and resourcefulness. Family vacations were visiting her sister Pauline in Illinois or my Father's sister, Rose in North Carolina.
She loved everyone unconditionally. "I loved you to pieces" is what she would always say with a big hug and kiss. And she always signed cards "All my love". My friends loved her as if she were a part of their family. A very special thank you to all who made her feed so special and loved.
She worked hard all her life to provide for her family, and truly loved what she did. She drove a school bus for 35 years and was very proud that it was incident and injury free, driving 3 generations of students in Alexandria Township. My parents had accrued over 70 years of service to the school children of the community. They loved the kids, and were considered as Grandparents by all they drove to school. And, being a tom boy, she was especially good at it, wheeling that bus around like a tricycle, in spite of being 5' 2". She won a silver dollar at the School Bus Rodeo one year for backing the school bus up with the rear passenger-side wheel stopping on a dollar bill.
She drove the tractor during the summer, helping my Father bale, hay. In addition, she grew vegetables in a large garden, string beans, carrots, peppers, corn, tomatoes, zucchini, anything she could can or freeze to feed us all winter. She raised strawberries and raspberries to make the best jellies. She also would buy "drops" from her friend, Edie, who had an orchard. The peaches and pears were a bit bruised but much cheaper for her to can for the long winter ahead. My Father enjoyed them every night after he finished milking cows.
She was quite the self-taught mechanical engineer and carpenter, observing needs or problems, and devising solutions. When I learned to weave in the early 1990s, she immediately took notice of all the tools that would be useful. She made me yarn winders, shuttles and bobbin holders, all with various prototypes. I will treasure and use them all forever.
She found joy and purpose in doing and making things for those around her, afghans, doilies, braided rugs for many years, and crocheting water bottle covers for cancer patients. After I retired in 2013, I taught her to weave and she proceeded to make dish towels, placemats and scarves for family and friends. No sooner would I have her loom set up for a set of dish towels, I'd have to start planning and preparing the next project of placements to set the loom up again. I learned to shop ahead for weaving yarns at every fiber conference or festival I attended! I haven't woven myself much since then, but watching her weave love into every piece was so much more gratifying. Mommy, I promise I'll get back to it now, finishing your placements for Frank and Laurelen.
Lastly, I can't express how much she loved her Philadelphia Phillies and 76ers. When the Phillies won the World Series in 2008, and the division titles for several years around then, it was the most exciting time for her in all the years she had been a fan. Last year's season for the 76ers was almost as exciting with them making it deep into the playoffs. We have gone to 24 consecutive years of Phillies Spring Training, loving every minute. Years hence just won't be the same without her.
There is never enough time to spend in this world with those you love. She truly made the most of her time here, supporting, loving and caring for all of us. For that, all of her family and friends are most grateful. Thank you, Mommy, for all your love. Thank you, God, for giving her to us. Keep her in peace with our Father and all her loved ones already in your care.
Share Your Memory of
Eleanor
1761 State Route 31
Clinton, NJ 08809
Phone: (908) 735-7180
Christopher Knoll - Manager, NJ License Number: 4460
Martin Funeral Home proudly serves Clinton NJ and the following surrounding communities of: Clinton Twp, Annandale, Lebanon, Lebanon Twp, Glen Gardner, Tewksbury, Flemington,
Raritan Twp, Readington, Alexandria Twp, Pittstown, Delaware Twp, Asbury and Hampton New Jersey